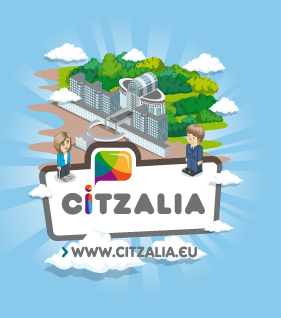 Yesterday – thanks to this tweet – I had the dubious honour to be one of the first people to have a look at a draft website for Citzalia, a project that promises some sort of virtual European Parliament role playing game. The official blurb is as follows:
Citzalia is democracy in action. It is role playing game and social networking forum wrapped in a virtual 3D world that captures the essence of the European Parliament. You may even recognise parts of the building […] Current Members of the European Parliament (MEPs) and European officials will be on hand to guide you through the procedures and provide background information.
I don't really know quite where to start to critique this, so perhaps I'll start with the positive – the graphic design for the site, even the draft so far, has been meticulously delivered by ESN – it all looks smart and crisp. So I can't fault the agency.
The question I simply cannot answer is why is the European Parliament spending money on this?
Thanks to the research of some fellow EU bloggers we reckon this is financed from €4 million allocated to ESN in a 2008 budget line from the EP – see page 21 of this PDF. In the same period ESN has done this project for the EP, presumably under the same funding line? The only other similar line is this from the Commission, but Citzalia looks like an explicitly EP project. If someone knows the precise answer to these funding questions please do leave a comment. [UPDATE – 6.8.2010, 15:45] See the comment below from ESN – funding totals €275k, from a different funding line than the one I had suggested.
All of this seems especially poignant just now as the European Parliament seems to be doing its best to kill off the European Citizens' Initiative – a way for citizens to have a direct (rather than a virtual) impact on EU decision making. How about using some EP money to deliver a simple to use, online petition platform for the ECI? Surely simpler to program than a virtual European Parliament!
Education about the European Parliament is important, sure, but the problem for the EP is however much people learn it's not likely to make them more favourable towards it, for the EP has a structural problem – individual MEPs matter to individual pieces of legislation, but the overall direction of European integration and even the composition of the European Commission are too little influenced by whether the EP is controlled by the left or the right. So inform people, sure, but the incentive for Members of the European Parliament to really effectively communicate themselves is still lacking. No amount of slick websites can possibly address that.
All of this rather reminds me of the MyParl.eu story from 2008 – a social networking system for MEPs which was then ditched. I wrote then that it's simpler for MEPs to approve a few million Euro for a website than it is to actually get them communicating effectively themselves, and that seems to hold true for Citzalia as well. I really fear this is going to become a virtual ghost European Parliament with high costs and very few users.
[UPDATE – 6.8.2010, 10:45]
Please note: I am not saying this site cost €4 million – I don't know the precise sum. I am saying that as far as I am aware the funding came from within €4 million of funds allocated to ESN. Those are rather different things.