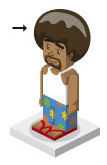 My previous post about Citzalia has been creating waves in the small pond of EU debate throughout the day. The blog entry was first linked from Tim Worstall, then appeared in the Open Europe press review, and has then subsequently been linked by England Expects, Politics.ie, The Endless Track and Bill Cash.
My original blog entry was posted at 0935 this morning, after I was first made aware of the project from this tweet at about 1800 yesterday. It then took until 1539 today until Paolo, one of the project officers at ESN, posted this comment in reply to my piece, setting things straight about the budget.
I absolutely stand by everything written in the original blog entry – I made it clear that I was not certain about the budgets for this, and as a result I have posted comments on all the blogs that have mentioned the story, pointing out the new information supplied by ESN. I'm posting those comments as I'm conscious of my reputation as a blogger – surely ESN ought to be doing this too, and quickly?
Beyond that questions have to be asked about the broader communications here. It's not as if I'm kind and mild on this blog, and while I want the EU to exist, want the UK to be in the EU, and indeed want a federal Europe, I also – very strongly – want the European Union to be efficient, democratic and avoid waste. Anyone who has ever read a few of my blog entries over the months and years can surely see this – I'm not just 'pro-European'.
Surely today's case shows, once again, that EU bloggers now matter in the Brussels bubble, and they have the power to inflict some damage.