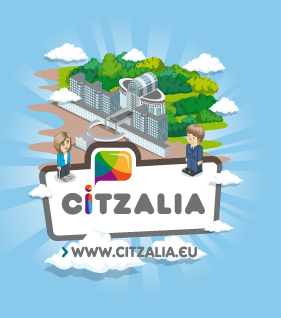 Aahmed ElAmin, one of the developers of Citzalia (whose words were followed hook, line and sinker by The Guardian) has penned his own side of the story at a website entitled The Royal Gazette. Odd location, and his approach to the whole thing is even odder. You can read the whole piece here, and as parts of it specifically attack me, I'll deal with those one by one.
First, a widely-read blogger, Jon Worth, blogged about the site, speculating that Parliament was spending about four million euros on the site.
No Aahmed. I made it very clear from the outset that I did not know the precise source of the money. I found two budget lines, each allocating 4 million Euro to ESN, the web agency behind Citzalia, and linked to those. I made it clear that I did not know whether this was the case. Plus no information about funding was made available on the Citzalia website when I wrote the first piece. If you assumed you could just avoid any critique of your project then you are naive and stupid, and if you knew you were going to be criticised and did not think to explain how the project is funded then you're just stupid.
He then went on to use Citzalia as an example, rather bizarrely, of the Parliament's supposedly collective aim to squish a measure that allows EU citizens to bring forth legislative issues by referendum.
The words I used were "All of this seems especially poignant just now as the European Parliament seems to be doing its best to kill off the European Citizens' Initiative" – which Aahmed then twists into Citzalia squashing the citizens' initiative. No… What I am saying is that the European Parliament cannot get its initiatives for regular democracy right, and until it does that, why is it creating models for virtual democracy?
Since then, the four-million-euro figure has been carried by other blogs, despite our post correcting the original spark.
Yes – all those blogs had posted the 4 million figure long before there was any formal response from ESN. I even posted comments on many blogs correcting the figure before ESN did. The official reaction was just too slow.
The original blogger himself amended the article to use the correct figures but also responded that we should have contacted him as soon as he blogged his speculation. Huh?
Yeah, huh. You informed me about this project, direct to me via Twitter, a super-fast medium. I post a reply direct to you, to the Citzalia account, stating I don't agree, with a link to the blog entry. Everyone blogs and speculates for half a day, with no reply whatsoever from the Citzalia team, who then freak out. Come on folks! I might have a widely read blog, but I am a one person operation, and blogging is a hobby. You have 20+ staff, a €275k budget, Google alerts, RSS feeds and hell I even informed you I had written the blog entry! If you were not ready to monitor the reactions to your project you should have not released information about it in the first place.
Your problem Aahmed, and indeed ESN overall, is you were actually made to look rather silly by a bunch of amateurs on this issue. Use of social media is not just nice and smily and chirpy and new and funky – it's a hard world too. Maybe after this episode you could have learnt that a little, but judging from your piece you seem to think I'm responsible for the whole episode, so it looks like there has been scant little learning going on.