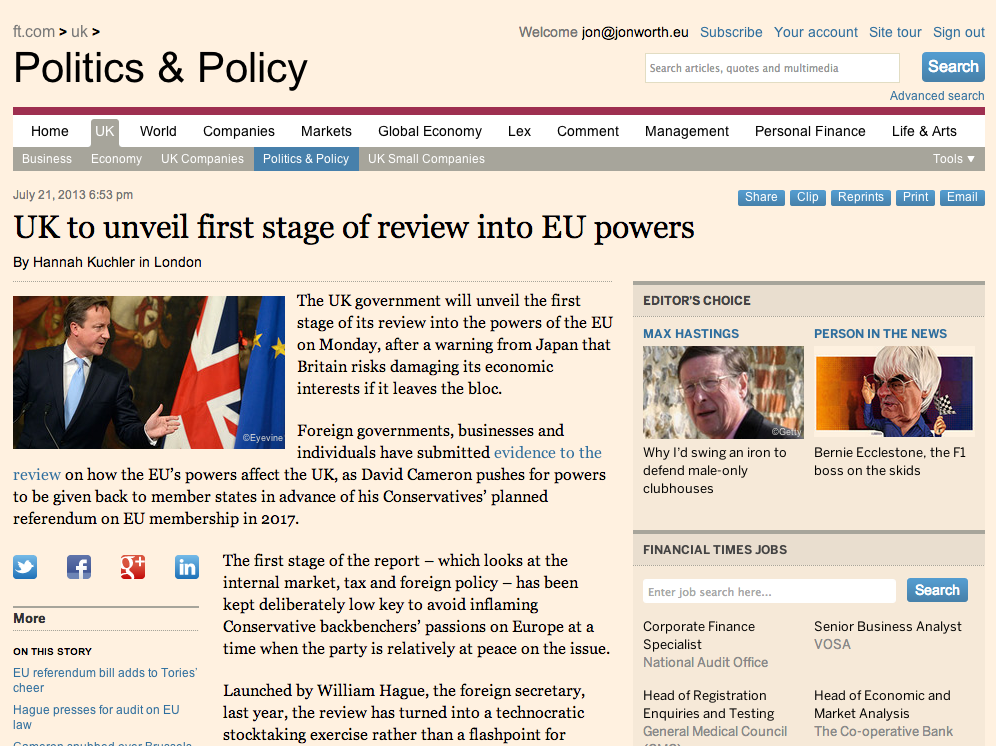 My challenge this morning was to build a systematic, and free, way to keep an eye on breaking news about UK-EU relations. Of course I have had ad hoc ways of doing this until now, but for a project I am working on I needed to make it more systematic. The news I need to monitor is "what's happening" sort of news, not opinion pieces.
So how do you do it?
As ever I started with RSS and Netvibes, my RSS reader. If you doubt the value of RSS, have a read of this (a little old now though).
The first issue: what RSS feeds to include? Some are easy – FT Europe, FT Brussels, FT Brussels Blog, IHT Europe, EUObserver, Euractiv.
But beyond that it gets more complicated. I do not want generic EU news, nor generic UK news. The ideal would be a Google News search for UK EU, but getting Google News searches as RSS has now been disabled… I have instead opted for Talkwalker alerts as RSS feeds, although I will only be able to judge with experience as to whether this is as good as Google News. If it is not then mmmmail's e-mail to RSS system might instead do the trick to get a RSS feed out of Google News.
I then need EU institutional news, with all except UK stories filtered out. For that I've built this Yahoo Pipe, applying text filters to EP newsfeeds one and two, Commission's press releases, and ECJ news. RSS from the pipe goes into Netvibes.
UK government news should  be simpler – it is possible to filter GOV.uk by keyword, so I'm using this RSS from them.
I have then done the same for news from UK broadsheets – RSS feeds from The Guardian, The Independent, The Times and The Telegraph have been filtered by keyword in this Yahoo Pipe, and the output RSS put into Netvibes.
So then, which of these many tools picked up today's major UK-EU news? That would be that an announcement is expected this afternoon about the UK's EU competence review (screenshot above). That came from… the FT. It's an interesting case, as no mention whatsoever is made of this issue at GOV.uk, nor indeed on the website of the competence review, nor on the day's House of Lords order of business. To know it will even happen and to report on it needed typical, traditional, journalist networking. So much for online first, and the power of the internet, eh? But at least my monitoring system found it.