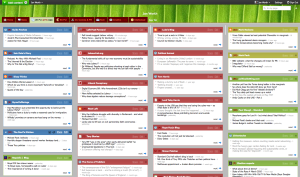 I ran a workshop on online campaigning in Brussels last night, and in the initial round of introductions I asked the participants if they blogged, were on Facebook, on Twitter, or used RSS. A couple of people said they 'didn't have time for RSS'. I was flabbergasted. How do you have time if you don't use RSS?
So hence this blog entry aims to set things straight about this brilliant technology that's promoted by no-one and hence does not get the credit it deserves.
Essentially if you use the internet to get your news in the regular way, visiting different websites in turn, you're not time efficient. Pages take a while to load, you have to browse around for the sections you want to read. Even if you have sites open in multiple tabs in a browser you still have little overview to compare sources. So in short you waste time.
RSS solves all of that, by grouping together the content you want, in the way you want it, and – subtly – keeping it up to date.
To use RSS you need a RSS reader – web based ones are best so you can use them on any machine anywhere. I personally favour the elegant Netvibes over Google's Reader, although both do the job. A guide to how to add a feed to Netvibes is here, and how to do it in Google Reader is here.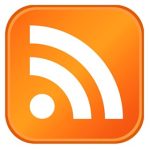 To this RSS reader you add RSS feeds – feeds are normally indicated with the little orange logo shown here to the left. When website content is updated, the RSS feed is also updated and you see the new stories in your RSS reader, normally in bold. Have a look at the screenshot above to see how it can look.
So how would you use this in practice?
Imagine you're working on EU affairs. You might create a list of RSS feeds with the latest news about EU politics – from The Economist (RSS for 'European Union' subject), the FT (by sector or by region), EUObserver (feed logo top-right of their site) and euro|topics (RSS in the right sidebar). You might then add some sector specific feeds – the industry publications for the issues you work on for example. So in a couple of tabs in your RSS reader you have all the news you need at your fingertips, organised your way.
If you're a blogger or activist then it's even more important. As the screenshot above shows I keep an eye on about 20 UK political blogs on an everyday basis, and the same number of EU blogs, tech blogs and all kinds of others. Any decent blog will have RSS feeds, and quite often many different ones. Here for example you can follow Euroblog, Sportblog, even uniquely what I've been writing about Eurostar – all via RSS.
I don't read each and every entry of every blog I follow, but I do read whatever has a title that catches my eye, so the header needs to be clear and descriptive. I could never visit even 20 blogs, let alone 100, on an everyday basis but RSS allows me to maintain a sense of perspective.
So if you are not using RSS yet, why not? It will allow you to keep an eye on more sources of information, more efficiently than you ever have before. Invest a little time learning how to use it and your engagement will be paid back many times over.
(P.S. Apologies to all blog readers who have come across this entry because they follow my blog via RSS – send a link to friends who are RSS-sceptics!)