I was a speaker yesterday at the Nordic-Baltic Youth Forum 2011 in Narva, Estonia. The slides from my presentation are here, but this post is about an issue that was on my mind all day – how Members of the European Parliament should organise their web presence. The 3 MEPs at the event in Narva – Emilie Turunen, Kristiina Ojuland and Radvilė Morkūnaitė-Mikulėnienė – all have personal websites and some presence on social media, but judging by their comments on the panels they struggle to make the most of the technology, and find it hard to work out what they should do and what their staff should do. So here's a plan for them.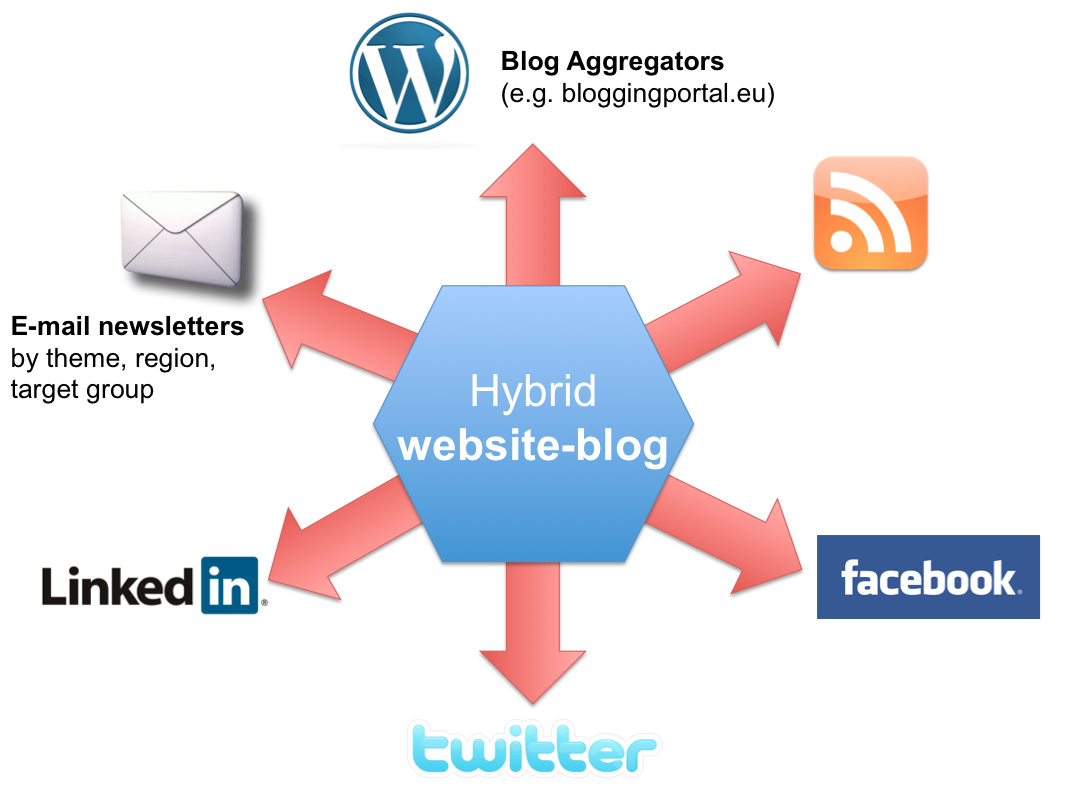 First of all, a hybrid blog-website should be at the heart of any politician's web presence. All the information that is also to be used across all social media should be put there – the website remains the place to go for whatever information any citizen, lobbyist, journalist would possibly want about a MEP. The site should list all engagements a MEP is attending and contain details of all the person's legislative activity in the Parliament. By default as much information as possible should go online – openness should be the point of departure.
I say it should be a hybrid blog-website because there is no legitimate expectation that the politician themselves does everything, and this can be distinguished on a site – with first person prose on a blog and third person elsewhere, similar in style to ex-MEP Caroline Lucas. Every MEP must determine their own level of engagement; no engagement from a MEP themselves is not acceptable these days in my mind. It's not as if the tech is hard – I've taught people who didn't know how to copy-paste how to blog! Further, MEPs should make it clear their researchers are part of the web team (as Simon Busuttil does).
For the tech of a politician's web presence costs need to be kept low – there is nothing I've listed here that cannot be done with the excellent free and open source WordPress. I'm yet to see a genuinely interesting website of a politician who uses a central system provided by a national party HQ – these should be avoided.
Then on to the other points of the diagramme above.
First of all RSS feeds of all aspects of a MEP's work should be provided – by theme keyword, and by type of work. If you don't know what RSS is, or why it's important, see this. If I want to know what Radvilė Morkūnaitė-Mikulėnienė is saying about Nord Stream only I can get this via RSS here (although this is not explicitly shown on her website). This allows visitors to keep track on one aspect of a MEP's work and – secondly – allows content to be aggregated from a politician's website into blog aggregators such as BloggingPortal.eu
Thirdly, the same targeted approach should be taken when it comes to e-mail communications. The standard monthly newsletters sent by most MEPs are no good – they are too long, too impenetrable, lacking in focus. E-mail bulletins should hence also be organised by theme, and also by target group – party activists, journalists etc. An open source solution such as phplist or a paid service like MailChimp would allow further accuracy of targeting. Also vital is that the communications should be web to e-mail, and not the other way around – news should be on the web first and then collected for e-mail communications. In the fast paced worlds of politics and social media there is no sense in holding back information for the sake of sending it out later by e-mail.
Fourth, a MEP needs to develop a presence on the relevant social networks in their national context. This basically means Facebook anywhere in Europe (and a Facebook page, not a profile), Twitter towards the Brussels environment (lobbyists and journalists) and possibly towards national audiences, and then other social networks (LinkedIn, XING, Hyves, Draugiem etc.) according to their use in the country a MEP represents. Selected information can automatically be fed onto these networks using RSS – blog entries make good content as Notes in Facebook, and it is worthwhile to tweet links to new blog entries. Standard press releases in the format "Kristiina Ojuland MEP said XYZ" should not be transmitted this way (should they even be written…?) as this style does not match the informal nature of social networks.
An individual politician needs to decide their own personal engagement in social networks, and under no circumstances should content be written on social networks by staff without a politician's explicit approval. MEPs such as Marietje Schaake write all tweets and Facebook content themselves – that's a best case scenario. MEPs sit in plenty of long and boring meetings – that's the time for social networks, ideally off a smartphone.
It is a delicate issue but I would say that broadcasting alone (and no discussion) does not come close to making the most of the potential of social networks, but it is probably better than nothing. A politician's staff can assist collating comments and feedback, and to determine which questions from citizens merit a reply. The use of Twitter lists can help make Twitter workload manageable.
Lastly, each MEP needs to determine their language preferences for their web presence – own language only eliminates the Brussels networking potential of the technology, so a combination of English (and French?) and national language needs to be used. This is easy enough to accomplish on a website with multi-language functions, and also onto a Facebook page, while on Twitter 2 separate accounts could be the best solution.
Right, that's all for a quick overview! Would be good to hear comments from MEPs, politicians at other levels, and anyone who wants good web comms from their politicians!