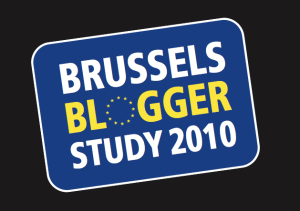 I spent an interesting couple of hours this morning at the launch event of the Brussels Blogger Study 2010, a report by public affairs company Waggener Edstrom about influence of bloggers in and on the EU. You can download the PDF of the study here (it's not on their website, but the document is public, so I guess I can link to it). Turns out – to my surprise – that this blog ranks 5th in their study.
Odd then that I heard about the event via other bloggers, and had to invite myself to attend, and that the document itself is still not on the Waggener Edstrom website…
Odder still is the list of bloggers that make it into the Top 10 in their study:
BBC | Gavin Hewitt's Europe
FT Brussels Blog
The Digger
Fistful of Euros
Jon Worth / Euroblog
Stanley's Blog
Open Europe Blog
Julien Frisch | Watching Europe
ECJBlog (assume that's right? It's not this?)
Neelie Kroes
Some of these are understandable, but what about Charlemagne (ranked 11th) and Nosemonkey (ranked 20th)? And The Digger ranked at number 3? I assume they mean this The Digger (and not this one – what you get if you Google for "The Digger blog").
The methodology used to rank the blogs is summed up here:

The latter two criteria strike me as rather biased towards tech in this area that is more often determined by personal relationships.
Anyway, in summary – some food for thought here, and it strikes me this is a traditional Brussels public affairs company just dipping their toe in the blogging waters. The EU-Brussels bubble has some way to go before understanding the impact of blogs it seems.
You can see all the Twitter reaction with the hash tag: #bbs10
(Post now updated with links, content the same as previous draft.)