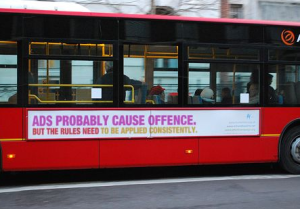 Stonewall has been running an excellent campaign on 1000 buses with the slogan "Some people are gay. Get over it!" So – surprise, surprise – some bigots decided to run a counter campaign on 25 buses with the slogan "Not gay! Ex-gay, post-gay and proud. Get over it!" Only Boris Johnson, in the middle of an election campaign, has intervened to try to get TfL to pull the ads.
Boris is wrong to make this request. Here's why.
I have quite some experience with this sort of thing as I was one of the people who started the Atheist Bus Campaign. We needed our slogan – There's probably no god. Now stop worrying and enjoy your life. – to get the OK of the Advertising Standards Authority. With that permission granted our advert was good to run. Our campaign prompted a whole slew of counter campaigns. One from the Christian Party asserted there definitely is a God and TfL allowed it, while a further ad basically branded people fools. Our atheist ads caused offence but we were right to run them and likewise the counter campaign caused offence too (not least the Christian Party one that attracted the second highest amount of complaints in ASA history).
Yet I would have taken the UK response to all of this over the German response any day. In Germany atheists were barred from advertising on public transport by one local authority after another, and in the end resorted to hiring a bus and driving it around Germany. This is despite religious adverts being allowed on German public transport, as documented here.
So then ask yourself the question: in the dispute over the Gay Bus ads, which approach would you prefer?
While I intensely dislike the anti-gay message on the counter advertisements, I still think they should be run. The rules need to be equally respected by both sides, and the ASA has also confirmed the anti-gay ad does not contravene any UK advertising law. If the law is wrong then it needs to be changed, and the new rules applied equally to everyone. By intervening to stop these adverts Boris has shown just the sort of intolerance that prevented atheists advertising in Germany. Is that the sort of approach to public debate we want in the UK?
[UPDATE 13.4.12, 0900]
Just to make it clear: the ASA does not pre-approve ads, but in the Atheist Bus campaign case we checked with CBS Outdoor, the company that manages the ads on London transport, and they stated that as far as they could tell there was not a problem. Subsequent complaints by Christian Voice and others to the ASA confirmed this.
[Image generated from the ever-excellent Bus Slogan Generator]