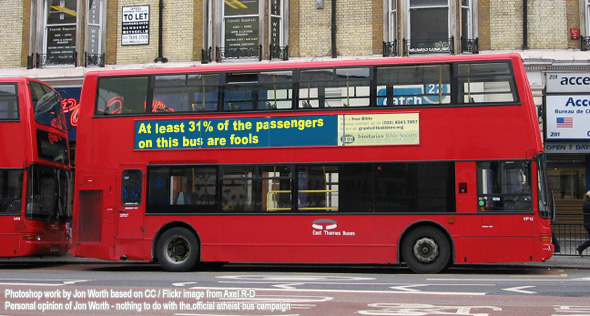 Atheist buses are one thing, stating there's probably no god. But how about the christian counter adverts now on the streets of London? The christian party adverts that are even a rip-off of the design of the atheist ads are rather inoffensive as far as I am concerned; imitation is the best form of flattery. However the ads that really annoy me are those from the trinitarian bible society that state "The fool hath said in his heart, There is no God" from Psalm 53.1 – you can see a picture of the original ad here.
Reflect on this a bit. Anyone that does not believe in god is a fool is the message they want to give, with the use of a quote to try to make it should less nasty. Don't believe = fool. So let's apply some stats to that. The best research that I can find is that between 31 and 44% of the UK population is atheist, agnostic or non-believer according to a 2005 academic study. So for the benefit of doubt I'll take the lowest statistic and generate a slogan for a bus: "At least 31% of the people on board this bus are fools". Now what would the ASA think of that slogan? Rather offensive don't you think?
PLEASE NOTE: the opinions in this blog entry are those of Jon Worth alone and are NOT the opinions of BHA or anyone else involved in the atheist bus campaign.