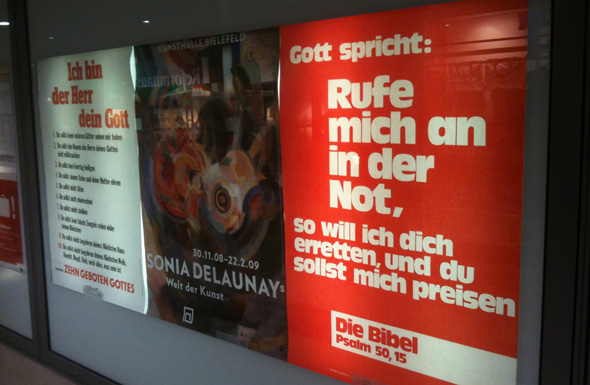 One of the arguments that my German friends like to make against the Atheist Bus Campaign (and especially it's German equivalent) is that 'because there is no religious advertising on public transport in Germany atheists do not need to advertise'. This is the sort of reasoning why companies such as EVAG Essen declined the advertising.
So then what do I see when changing trains today at Köln Hbf? The pictured religious advertising right in the middle of the station! So much for there not being religious advertising that atheists are wholly within their rights to counter.
Germans also need to reflect a little about their vocabulary when it comes to atheists. I was introduced to someone (admittedly born and brought up in Baden-Württemberg) on Thursday who's reaction to me – essentially a complete stranger – when someone said I was behind the atheist bus campaign was "das ist total schwachsinn" ("that is total bullshit"). Think about that for a moment. Am I going to go "that's bullshit" to someone who I meet who is on the way to church? No I'm not, and it's not socially acceptable to do so.