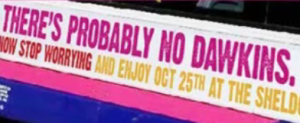 The Atheist Bus Campaign is the biggest thing I've ever done, and may prove to be the biggest thing I ever will do. It was more than three years ago that the original campaign started, and it still lives on.
In recent days a new controversy has been brewing in Oxford as Richard Dawkins has declined to debate visiting American theologian William Lane Craig and Craig's supporters have taken out 30 ads on Stagecoach buses in the city (more from The Oxford Times) with the slogan "There's Probably No Dawkins".
My mother e-mailed me, asking whether she could donate to a counter campaign (along the lines of "Dawkins exists. Question is whether god does." perhaps?) but, on reflection, I don't actually think any counter campaign is needed.
The "There's Probably No Dawkins" bus ads use the same colours and font as the Atheist Bus did and when you see those buses you think Atheist Bus and/or atheism. The atheists framed the whole fun but thought provoking bus ads thing, and any religious rival campaign uses our frames. So this latest campaign is one more win for our efforts.
Atheist Buses are also now embedded enough in the British psyche to have also featured in a couple of books recently as well – Alexander McCall Smith's Corduroy Mansions, and Marcus Brigstocke's God Collar.
Not bad for an idea from a journalist and a campaign started by a blogger.