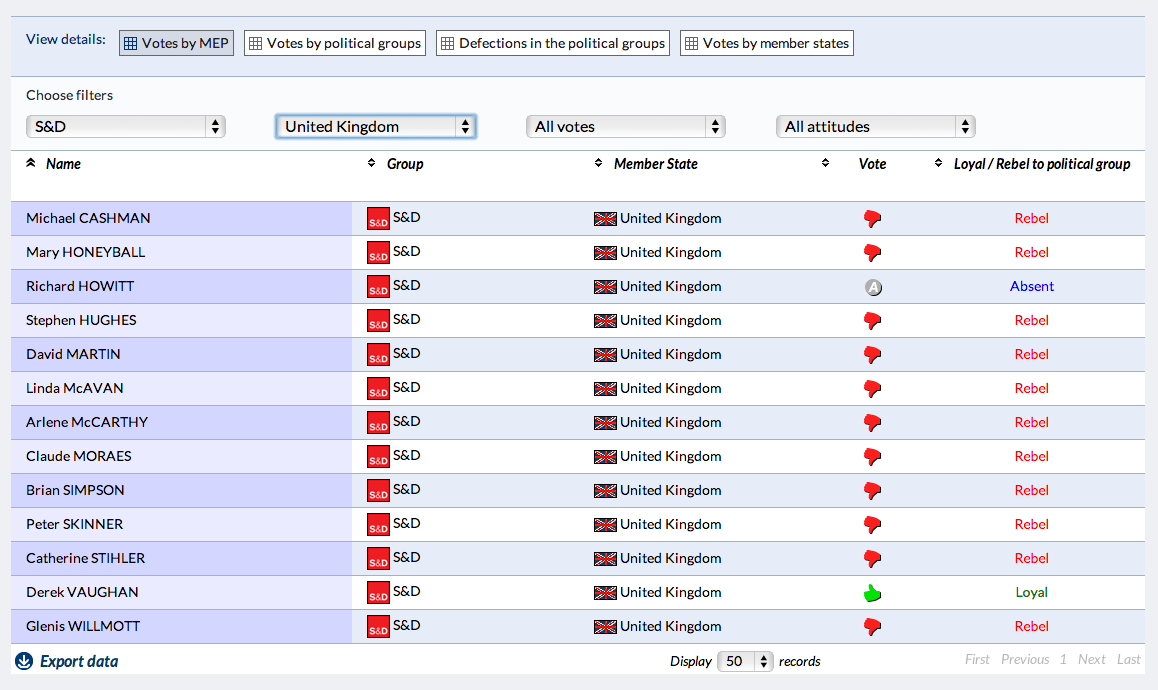 A tweet by Emma Burnell pointed me towards this blog post by Tracy Hill about UKIP, and the threat they pose to Labour. You can read the whole blog post to look at the stuff about UKIP, but there is one paragraph I will highlight, for it shows the problems the EU poses Labour, let alone UKIP posing a problem to Labour. This is the paragraph – emphasis in bold is mine:
Labour MEPs work hard in Europe, engaging with the system and negotiating for a better deal for Britain. By promoting British interests actively in Europe, Labour can secure better terms for British businesses and push for reform where it's needed. Labour MEP Derek Vaughan recently secured a real-terms cut for the 2013 budget of the European Parliament and other EU institutions, by restricting administrative expenses. The public will respond to evidence that their representatives can change things positively in Europe, and we need to find ways of communicating this evidence.
This is rather standard fare when it comes to explaining the EU in the UK. It's about going off to Brussels and getting our way! Standing up for the country!
Only actually it doesn't work this way.
First of all, what are Labour's values? They are the values of compassion and social democracy, that we're all better if we work together. That means that we should be emphasising a centre-left vision for the budget, not the notion that there is a British interest in the budget and that Labour is working for this. Less CAP money for rich landowners, and more for investment in the EU's poor regions is more of a Labour line than "restricting administrative expenses".
Second, Labour has been playing a tricky game on the budget for years anyway, where MEPs vote along S&D Group lines in the EP on all amendments, and then vote down the budget as a whole to make a symbolic point to the UK media that they were 'tough'. Take a look at the 2013 budget vote that Tracy mentions – here is the vote on Votematch. Filter this for S&D Group and UK, and you will see that only Derek Vaughan, the Labour MEP, voted in favour (because he was rapporteur), while all his UK Labour colleagues voted against. But there was still led this press release from the EPLP about Derek's work, welcoming the decision. If you can work out what Labour is actually trying to do in the EP on this then you're more clever than I am.
Third, the idea that you can in any way communicate this sort of weigh-up-the-pros-and-cons approach to the EU is rather fanciful anyway. This is the way pro-Europeans have been trying to do it for decades in the UK already, and look at where it has left us. People vote according to their values, not according to a raw analysis of the facts or policies, and Labour has no values-based approach to the EU. Even if Labour thinks it needs a tough approach, no-one is going to believe that Labour can out-tough UKIP or the Tories anyway. And then there's the deep distrust of UK and EU politics that Labour has to contend with.
So it's time for Labour to ditch the "standing up for Britain" line, because it can't work for the party. "We're all in this together" might be a better way forward.