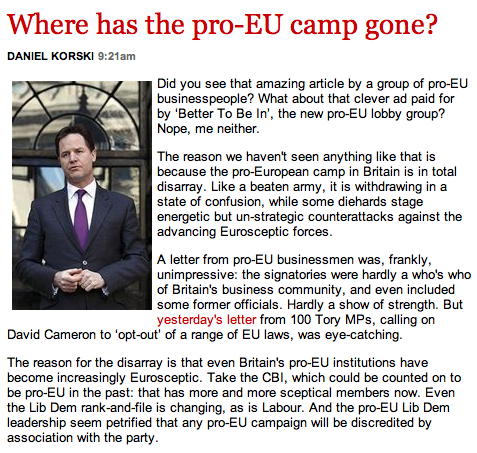 Daniel Korski has written a short piece at Spectator Coffee House entitled Where has the pro-EU camp gone? It's a valid question to ask, if you view UK politics along the traditional lines of pro-EU versus anti-EU. The problem is that very frame only gets you so far.
Korski rightly cites hardening attitudes to the EU in Labour. But equally how could any Labour person in their right mind support the Common Agricultural Policy or the agreement to 'solve' the Eurozone crisis through the fiscal pact that basically lumps the Eurozone countries with a commitment to austerity for a decade? So while the EU (and the UK's membership of it) may be of enduring value, who spends their days arguing in favour of something that's also getting things wrong?
The danger of course is that if Britain edges towards leaving the EU and a referendum were to be held, could those wanting Britain to remain in muster enough support and organisational competence at that time? That must be a worry. But for the moment, while Britain remains in, it's much more worthwhile to argue about the direction the EU should go (more socially responsible, more free market, more decentralised – take your pick) than it is to simply man the barricades for its defence.