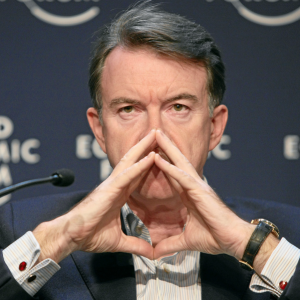 Two grandees of UK politics were at it again today. Peter Mandelson, while at least acknowledging an in-out referendum for the UK, was nevertheless pompous and deluded in the FT: "pro-Europeans […] should acknowledge that their case has largely been won by default and that it needs to be re-articulated with fresh vigour". Vince Cable, speaking at Chatham House, was even worse, quoted in Chatham House's newsletter thus: "The debate about the Single Market, like the wider debate about the EU, must be based on thorough analysis not emotion" (there's more about the event he spoke at here, and the edition of International Affairs is here).
Sorry Vince and Peter, but what planet are you living on? You're both deluded.
Thorough analysis might be important for good policy making, but that is not going to be what will influence a debate about EU matters in the UK. Indeed I do not think you really appeal to anyone in UK politics that way. You appeal to people on the basis of the values that you hold, and how you express them. You need to apply the lessons of George Lakoff.
Putting it another way: making the case for Britain remaining in the EU is not a glorified bean counting exercise – we gain X% of GDP, while your isolationism will lose you Y% of GDP. Neither side can 'win' this debate – we do not have a counterfactual, something that can mysteriously help us work out what the UK being outside the EU these last 40 years would look like. While I admire the persistence of people like Nucleus and Brian Duggan, I cannot see how their approach can possibly work.
The 'debate' about the EU in the UK is gone. It's lost. It's broken. To think there is a way back, just with the old measures, just with the same old, stale 'pro-European' appeals from Jackie Ashley or Polly Toynbee in The Guardian is the height of delusion. This is the country where populist journalists based in Westminster think it's OK to tell Members of the European Parliament that they know more about the European Parliament than the MEP does. Where newspapers feel it's fine to publish stuff about the EU, while either already knowing it's not true, or not doing basic research (case here, rebuttal here). This is the country where – fuelled by the expenses scandal in Westminster and the enduring whiff of corruption in the Brussels corridors too – it is assumed that you must be corrupt just to want to be a Member of the European Parliament. It's guilty until for sure shown to be guilty, not innocent until proven guilty as it should be. Take the temperature of the comments below this story I wrote about a sensible MEP, Sharon Bowles, on The Guardian's website, and try and counter that stuff. Yes, that's The Guardian.
So what to do?
Personally I have just crossed the threshold from deluded to depressed. I really do not have answers, ideas of how to move forward, at least not in the short term. I do not see any realistic way forward without an in-out referendum, but the prospect that such a vote actually really solves things is not likely either. Further, if the In side were to be run as Yes was run in the AV referendum then Out would have a good chance to win. In would need to learn the lessons of the Irish No to Lisbon campaign – letting a thousand flowers bloom, and within the panoply of views everyone could find their cause. The danger would be with people like Mandy or Cable at the helm that the In campaign would end up being the very same stodgy pro-Europeanism that has served us so badly for so long – bean counting style, poorly framed, institutional, and bland. Of course the popular but not realistically achievable 'renegotiate' option on the ballot would negate the danger of an Out victory, but would just prolong the agony of UK-EU wrangles.
The bare bones of some sort of rebound for keeping the UK inside the EU, and indeed some sort of effort to restore some trust in mainstream party politics, will need deep and profound changes at all levels. A measly 11% of the British trust political parties – among large EU Member States only Italy is lower (more here). The academics behind the UK's Democratic Audit use the words that UK democracy is in 'terminal decline'. Meanwhile replacing politicians with business people on platforms, Britain in Europe early-2000s-style, is no good either – with enough large corporates being hauled over the coals since the 2008 financial crisis business people are not trustworthy surrogates for politicians.
It as if we have switched to a new default – no trust of the political establishment – and we need new ways to come to terms with this. Complete transparency of the conduct of our politicians, and net-connected participatory decision making, have to be part of the answer (issues that I referred to in my counterfactual). What is called "prefigurative action" – the attempt to practice the kind of democracy that we as citizens imagine, the way Occupy movements work – needs to be part of it too. You should not need to be a sycophantic devotee to a party line and banner to feel you can play some role within politics. But even then I don't know where all of that will lead us.
At national, just as at EU level, we do not really know how to properly do representative democracy in the post deference, always connected age. Until we work it out I fear I'm going to stay stuck in my depression.