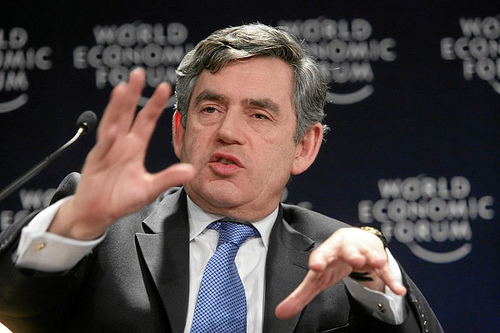 If you don't like a politician what do you do with him or her? International organisations are always an option. Could this work for Labour and Gordon Brown?
Let me explain.
Brussels is full of national politicians who no longer had a role in their national capitals; Neil Kinnock was a Commissioner when he reached the end of the road in the UK. Barroso is kept in Brussels precisely because the Portuguese government doesn't want him back home.
The same applies in other international bodies – Sarko favoured socialist Dominique Strauss-Kahn for the IMF to remove a potent enemy from the French political system. Pascal Lamy is equally out of harm's way in the WTO.
Yet all of the focus in the UK about the future of Gordon Brown has been not about the Prime Minister himself and the debate has almost uniquely focused on whether there is enough discontent in the cabinet to depose him. I think it's high time to think of options for a smooth transition out of power for Brown – essentially to find some other role he could be ushered into, something that would make the ending of his time as PM look less like a disaster.
Brown is not liked in Brussels, and he doesn't really like Brussels either. So an EU role is not a way out. But apparently Brown's moral compass is locked on international issues and development, so could a role be found for him in the IMF, World Bank or maybe even the WTO or the UN? Lamy, Strauss-Kahn and Zoellick are not up for reselection any time soon as far as I can tell, and it's not clear whether there could be any sort of UN role. But some creative thinking needs to be done in this regard. If Brown were not condemned to the political wilderness (and even managed a role of greater repute than the king's in the middle east) then surely the job of Mandelson, Johnson and Miliband would become so much easier?
(Thanks to Andy Carling for the inspiration for this post, over a beer in Brussels this evening)