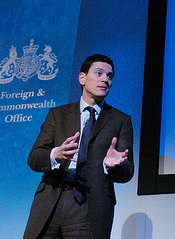 Welt am Sonntag reported yesterday that David Miliband might be a candidate for the EU Foreign Minister High Representative of the Union for Foreign Affairs and Security Policy, the foreign affairs position created by the Treaty of Lisbon. A FCO spokesperson has made a very bland statement that Miliband is working on his current tasks as UK Foreign Minister and does not have his eye on something at EU level. The article in Welt am Sonntag also speculates that there is some sort of new package deal – that the UK could live with Jean Claude Juncker as President of the European Council if Miliband took the Foreign Affairs role.
So is all of this likely, and is it desirable?
First of all I would be very happy for Miliband to take up some role in the EU. He's a clever, communicative, coherent, intelligent and pro-European politician. He takes the EU seriously, and as far as I can tell he's the only current UK cabinet minister that's reasonably well regarded in Brussels. Having said that taking Miliband out of UK politics for 5 years or more would be seriously damaging for Labour and for his own career – after all Miliband is 42 now and is widely tipped to be a candidate for Labour leader once Brown quits or loses a general election. In the short term rumours of a Miliband exit would further damage a rather weak Brown cabinet, within which Miliband is one of the few stars.
Which leads me to the issue of whether Miliband as EU Foreign Minister is likely… When it comes to EU institutional logic then it looks like a sensible deal – Juncker would be European Council President, presumably with Barroso going for a further term as Commission President, and then a younger person from the left and from a larger EU Member State (Miliband) as EU Foreign Minister. But set against the background of UK politics and the Brown government's present problems, and Miliband's age and stage of his career, I reckon it's still highly unlikely.
[UPDATE 23.10.09]
It's still far from being a reality, but it seems there's a little more to Miliband's candidacy now, especially as Blair's stock seems to have waned a little. See today's Guardian, and this good analysis from the Economist's Charlemagne blog.