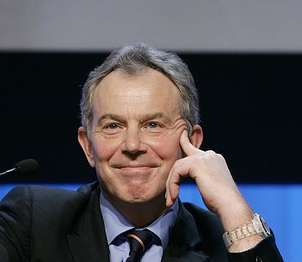 So here we go again. The EU has a multitude of problems on its hands: Russia turning off the gas, the Gaza conflict brewing, and no-one really knowing what to do about the economic downturn, least of all the Commission. The Czech Presidency has already made a few gaffes, and there are sure to be a few more from Klaus and co before the end of their 6 months in the chair.
So what does Europe need? A statesman apparently… Today's FT (more at Euractiv) is reporting that the idea of having Tony Blair as President of the European Council is doing the rounds once more, back on the agenda one year after Sarkozy originally backed the idea. It seems that Sarko's clout in the French Presidency has made a few people sit up and think…
But hold on a minute. Why would this idea be any better now than it was 12 months ago? OK, we know what can be done if the EU has some energetic leadership, but a few other factors have changed decisively against Blair. Firstly Blair does not seem to have had much of an impact as Middle East Envoy – would he be a sane face for the EU in that issue? Secondly, two of the major issues facing the EU – economic matters and gas supplies – are a mixture of market matters and foreign policy. Would Blair grandstanding be any good to fix those things? Seems to me that the case for one tough president is stronger than ever, rather than a statesman in the European Council and a weak flaccid lump in the Commission.
And then there's also the small matter of the referendum in Ireland on the Treaty of Lisbon… If Blair is rumoured once more to want the top job is that going to make it any more or less likely that the Irish are going to vote Yes?