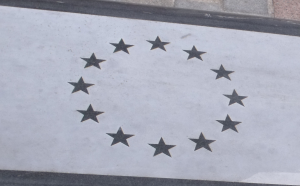 Forgive the even more rough and sketchy nature of this post than the normal you find on this blog, but this is about something that has been on my mind a lot recently, and I am struggling to adequately explain. I cannot back up what I am asserting here with complete facts – instead I am putting this out here to provoke some sort of reaction and further insight. I'm also keen to hear from people not based in the UK who find the UK's current track so perplexing.
Anyway, here goes.
The classic explanation of British EU-scepticism owes a lot to the UK's history – winner of two world wars, Winston Churchill, being an island that stood alone, had its own empire. Britain's membership of the then EEC in 1973 was as a result of the country's weakness at that time, and this has never been reconciled with a population that still views the UK as a major world power. Let's call this the we're-better-than-you scepticism.
I'm now instead more of the view that there is another cause of Britain's EU-scepticism, and it is rooted in politico-scepticism, or authority-scepticism. To put this another way: if your population has crashing levels of trust and participation in its own institutions, politicians, political parties and administration, this then also applies to the European Union, because being broadly pro-EU is something that is an establishment thing to be. If your MPs (expenses), police (Hillsborough), journalists/BBC (hacking, Savile) and government (HMRC DVDs) are broadly not to be trusted in the way they (perhaps naïvely) once were, then what? Just take a look at the comments below this Comment is Free piece I wrote about Sharon Bowles MEP – there is no accusation that Bowles is in any way classically corrupt (i.e. did something illegal). The accusation instead is that the very act of being a MEP in itself means she must be a questionable personality, jumping on a gravy train.
Add to this that trust in political parties and governments in the UK is below the EU average (table in the middle of this post), election turnout is 20% lower than the western European norm, and turnout even hit a new low of just 18% at the recent Manchester Central by election. Democratic Audit warns that political equality is 'widening rapidly' in the UK. I also recently read (but can't find the source) that the UK ranks 25th of 27 EU Member States for party political membership per capita.
Poor and inaccurate reporting of EU matters in the UK press, while especially severe when it comes to the EU, is not uniquely confined to coverage of Brussels. While anti-German, WWII style rants are still all too common, there is also the enduring politico-scepticism in the tabloids that is very much in common between both Westminster and EU coverage.
In short: relations between citizens and politics, and citizens and state, are not healthy in the UK, even in comparison to other states in the European Union, and anecdotally it feels that this situation is worsening. The European Union cannot be the entire cause of the UK's political malaise, as UKIP would try to have us believe. Indeed it seems to me that it works the other way around at least as much – that malaise about the UK engenders a general scepticism about all politics, and EU-scepticism cannot be separated from that.