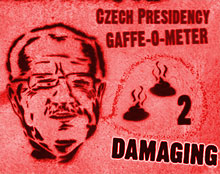 As reported by the Irish Times:
[…] all eyes were on the new president of the European Council, Czech prime minister Mirek Topolanek. Outlining his priorities for the next six months, he surprised MEPs by announcing that if a referendum were held on the Lisbon Treaty in the Czech Republic, the Czechs would reject it like the Irish.

He described the treaty as average and "somewhat worse than the Nice Treaty"
What is Topolanek on about? While what he might say about the Czechs and a referendum might be true, but is he deliberately setting out to damage the prospects of a Yes in Ireland? As for the statement that the Treaty of Lisbon is somewhat worse than Nice – that's just daft from a politician whose party has helped its passage through the Czech Parliament.
Apologies it's taken me so long to notice this – rather hidden by all the art exhibition stuff.