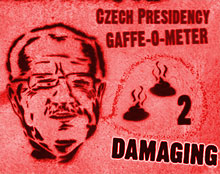 Sorry to go on about the Czechs again, but they provide so much ammunition. Topolánek: your government has just fallen in the middle of the EU Presidency, the very same Presidency that has already stumbled from gaffe to gaffe, and then you make an all out attack on the President of the United States? As reported by the BBC:
He attacked the US's growing budget deficit and the "Buy America" campaign, saying "all of these steps, these combinations and permanency is the way to hell".
Now the Buy America stuff might be nationalistic and protectionist, and indeed the Czech government has spoken out against the economic nationalism of France. But to state that the US policy is a way to hell? I think the guy could have chosen his words more carefully.
It's also interesting to keep an eye on how this comment by Topolánek is covered (or not) by 'EU can do no right' bloggers such as Daniel Hannan, England Expects and Bruno Waterfield. Let's not forget that Topolánek's ODS party is a likely partner for the Tories in a new political group in the EP after the elections, and pro-Americanism is often the flip-side to euroscepticism among UK Tories, UKIP voters, and readers of the Daily Telegraph. However the fiscal stimulus proposed by the Obama administration is the very sort of neo-Keynsianism that those very same groups find abhorrent…