The dreadful errors made by the Czech Presidency of the European Union go on and on… They don't know who's who in the Kremlin, they think Israel is defensive, and now they've caused all kinds of fuss by hanging art in the Justus Lipsius building in Brussels that depicts national stereotypes about the EU Member States. Germany looks like it has a deconstructed swastika on it, and the Bulgarians are annoyed that their 'symbol' is a toilet. This is the Presidency PR about the installation, and this is how the BBC covers it and there are more photos here.
Anyway, as the Czech Presidency seems to have mede plenty of gaffes already, and we're only 2 weeks into their 6 month stint in the chair, I thought I would make a small toolkit for EU bloggers – the Czech Presidency Gaffe-o-Meter, based on the idea of the Joe Biden Gaffe-o-Meter from the US elections. The idea is simple: when the Czech Presidency does something silly, you give the gaffe a score – 1 if it's just stupid, 2 if it's damaging, and 3 if it's totally unacceptable. You can download all of the images (inc. Praise-o-Meter), including a layered Photoshop file, here (8mb). The image is adapted from Czech street art of Vaclav Klaus from Flickr, creative commons attribution license.
Anyway, the art exhibition gets a big 3 on the Gaffe-o-Meter!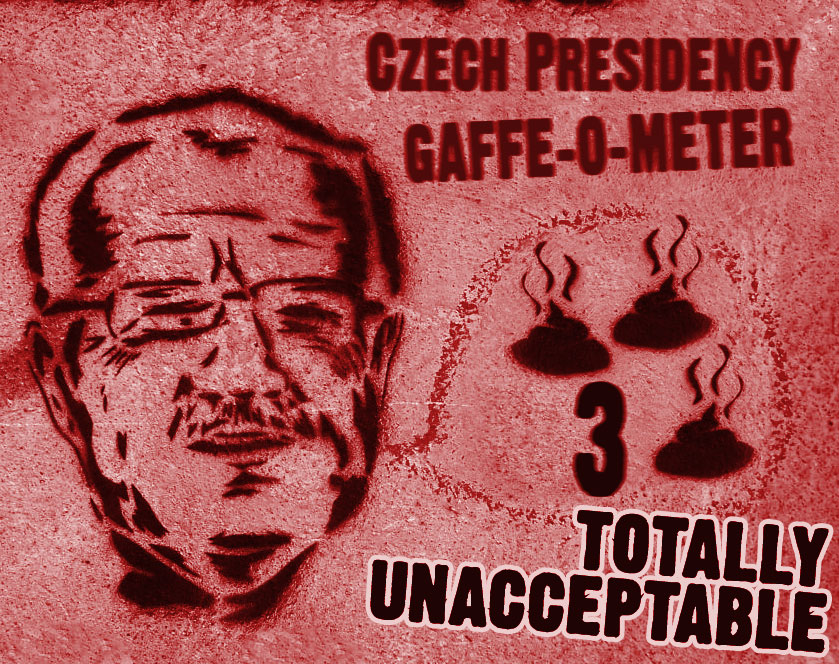 [UPDATE]
As a result of a comment from Ivava I've amended the Gaffe-o-Meter to also include a 'Praise-o-Meter' – a positive one to three score that can be used in the case that the Presidency does something good. Frankly I don't expect to use the Praise-o-Meter graphics very much but we'll see. Graphics, as before, are available for download.