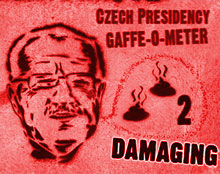 Why am I not surprised about this? The Czech Presidency has described Israel's actions in Gaza as 'defensive'. Hmmm, I think not.
I'm not looking forward to the Czechs in the chair for the next 6 months. Bring back Sarko, all is forgiven.
[UPDATE]
They don't even know who's who in the Kremlin, and they have to help fix the problems with Russian gas (not) flowing to Europe.