Foreign Ministers of EU countries are meeting today in Brussels, while at the same time protests against Hosni Mubarak in Egypt enter their 7th day. On his way to the Brussels meeting Swedish Foreign Minister Carl Bildt tweeted this:
[blackbirdpie url="http://twitter.com/carlbildt/status/31952709766610944″]
The right question to pose – but what prospect for any answers?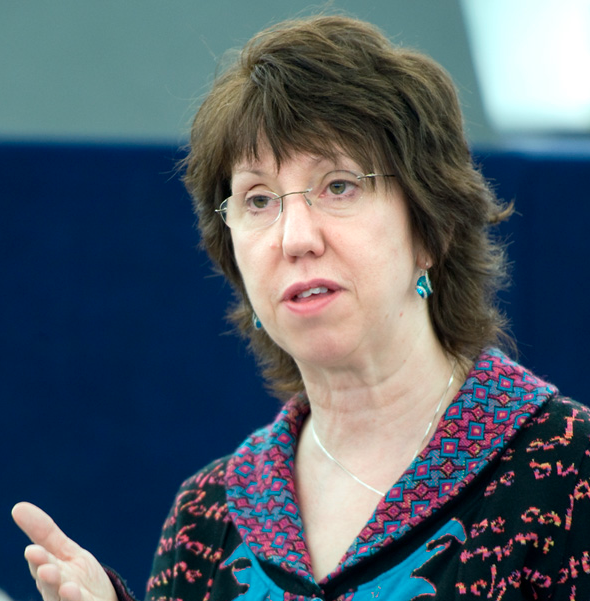 For the EU reaction to developments in Egypt has been somewhere between bland and non-existent. EU High Rep Cathy Ashton released two statements on Thursday and Friday last week, and President of the European Council Herman van Rompuy released a statement on Saturday. More from Kosmopolit here. These public positions do not go beyond a basic iteration of the need for non-violent behaviour on both sides, and for respect for human rights. Importantly there's no mention of what should happen in Egypt, no way forward. Let's not forget: Egypt is very much within the EU's sphere of influence.
Presumably due to the lack of any coherence from the EU, Cameron, Merkel and Sarkozy did get together to release a statement on Saturday – it's stronger in its tone, and calls on Mubarak to commit to the reforms he has promised. It also mentions the crucial issue of keeping communications routes open. These words from the leaders of Europe's big three countries are similar in tone and direction to Obama's statement on Friday.
So with three European leaders essentially jumping the gun and being more concrete in their demands, where does that leave the EU's efforts to achieve a coherent voice in international affairs?
In all of this the vacuum at the very centre is deafening. Van Rompuy has many responsibilities, so the critique should not rest with him.
No, the buck stops with High Rep Ashton.
Why has she been incapable of mustering up some strong words? Putting herself about on television, explaining what the European Union could be doing? Phoning Member State governments to deliver a statement of the 27 (rather than just 3) on Friday last week?
It's not even as if a consensus would be that hard to achieve on this. Even Italy is proposing a crisis mission. The problem here is a lack of guile, a lack of guts, a lack of determination to push for a proper EU foreign policy.
We're now a year on from Ashton's appointment, and this is not the first time we've been in a situation like this. There have been rumours about her commitment to the job, and she's even needed a letter backing her from the UK and Sweden in the past. I see no prospect for any improvement, and because of the three EU countries going it alone on this issue, it seems a number of Member States see things the same way. It's a public statement that they don't back her, and that putting a weak person in the EU's top foreign policy job was not in the interests of the larger member states as they perhaps once thought.
Ashton needs to be removed, and replaced. Now. Otherwise the EU is going to stagger from one foreign policy crisis to the next between now and 2014, and we can't afford that to happen. Merkel, Sarkozy, Cameron – if you can collaborate on Egypt, how about collaborating on forcing a change at the top in Brussels?
[UPDATE – 1700]
In the meantime things have moved on – Ashton has been a little more concrete before today's FAC meeting, and Bildt has tweeted this. Le Monde has also had a go at Ashton (paywalled, so I can't read all of it). Vihar Georgiev has also written a good post about the statements of EP President Jerzy Buzek throughout all of this. While Buzek might lack the formal responsibility of Van Rompuy or Ashton he's always ready to stand up for the cause of freedom and democracy, and do it in stronger terms than anyone else at EU level. Long may it continue.
[UPDATE – 31.1.2011, 2150]
Marietje Schaake (who has been saying the right things on Egypt as she does on so many foreign policy / human rights matters) has just pointed me towards Ashton's press statement today. I cannot begin to describe how lousy those words are – even worse than Ashton's statements at the end of last week. Pitiful.
[UPDATE – 1.2.2011, 1730]
The Charlemagne blog of The Economist has a roundup of goings-on around Ashton and the foreign ministers. Ekathimerini (in English) takes a similar line. Neither piece proposes a way forward though. Coincidentally David Miliband yesterday made an appearance in Parliament in Westminster – although not on foreign policy.