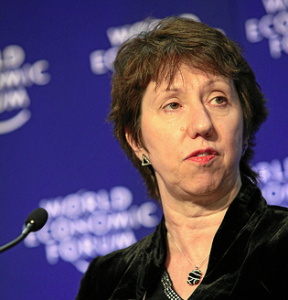 Today's Daily Telegraph carries a story on rumours that the EU's foreign minister high representative for foreign affairs Cathy Ashton might quit the position within months. It's interesting to read this as, when reading that Lutz Güllner quit as her spokesman last month, I remarked to some friends that I was starting to wonder whether she would be able to see out her whole term… While Ashton's own intentions cannot be determined there are plenty of people in Brussels wondering what the future holds for her.
I have nothing against Ashton personally – the one time I heard her speak live I was impressed by her approach, and politically I think she's fine. The problem however is that she is the victim of the macho Brussels game where you need to play individuals and states off against one another in order to advance, and that is just not her style. I think Margot Wallström suffered the same way but she dealt with communications rather than foreign affairs and hence could persevere.
The problems for Ashton started with her appointment. The socialists wanted one top position, and the Brits wanted a top position, and David Miliband did not want the job while no-one wanted Mandelson again. So Ashton was appointed rather by default. Backing from Brown – with his eye on the UK election even since last autumn – is not much use in Brussels, while Germany and France were simply tolerant of Ashton at best.
It did not take long for the sniping to start – Barnier and Quatremer having a go over Haïti, and an ongoing wrangle over the future of the External Action Service that prompted Miliband and Bildt to write an open letter backing her approach, and then the European Parliament uniting in opposition to the plans, which have now also hit further problems due to the role of Ashton in development aid.
So it strikes me that Ashton is rather lonely – politically, and even personally as her family and political allies are almost all still in the UK. She's going to need some determined backing from somewhere, and fast, if things are to improve. But with the UK election happening next week and other Member States focusing on economic crises elsewhere I cannot see that happening.