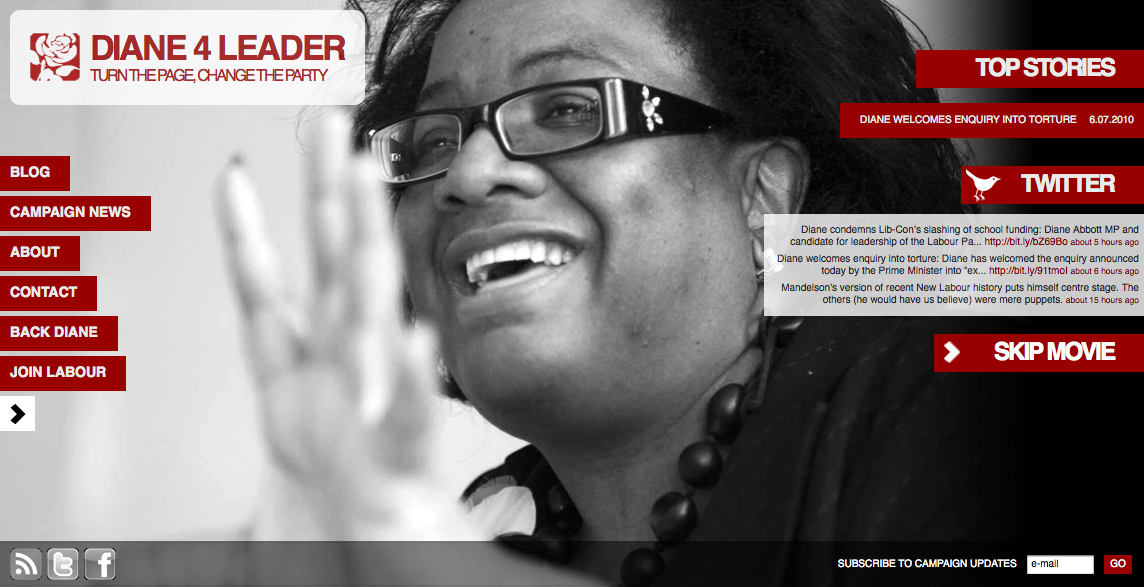 "If in 1994 you'd wanted to understand what our lives would be like right now, you'd still be better off reading a single copy of Wired magazine published in that year than all of the sceptical literature published ever since" was a classic line from an interview in The Guardian with Clay Shirky, one of the foremost thinkers about internet and society. If you've never heard of Shirky then read the full piece. Needless to say I agree with him – the internet is changing our society, our politics, in ways we can only just begin to understand.
It's in that context that I'm doing the website design and strategy for Diane Abbott's Labour leadership bid.
"From Shirky to Abbott? Is he mad?" you're probably thinking. Let me explain.
Designing websites for politicians is what I do for a living. But I've done too many dull, institutionalised website projects. Sites where there's scant little thinking about what has to be on the website, no contact whatsoever between candidate and web strategist (it's all filtered and sanitised by the minions), and web efforts that are just a bolt on to the regular campaign.
So when the chance presented itself to work on Diane's campaign I seized it immediately. A two-hour intense discussion and training session with her to determine the way forward sealed the deal. Most of the politicians I work for I've never even met!
Diane is relentlessly optimistic, amusing, engaging, interested by tech and the internet (tweets are from her, from her iPhone (apart from some automated from RSS)) and she's willing to see the big picture and not get stressed about the shade of red on her site. Her background in television and the strong imagery of her career are the assets that I've drawn upon for the design of her site. The site launched today is powered by WordPress but looks nothing like any other political website yet launched in the UK.
Yet today is only the start. There's much more information ready to be uploaded, and more interesting innovations ready to go over the next few weeks.
The site raises the bar – it is the candidate online, not simply a precursory coverage of the basics of social media as demonstrated by the other candidates, and it's a major change from the site Joe Caluori reviewed a short while ago. So for me this is not about Diane as such – it's more important than that. It's about looking at how internet politics can be conducted in the UK in the future, how Labour politics can be conducted in future, and as Diane is keen to embrace the future of politics online she gets my vote – and many, many hours of my time too.