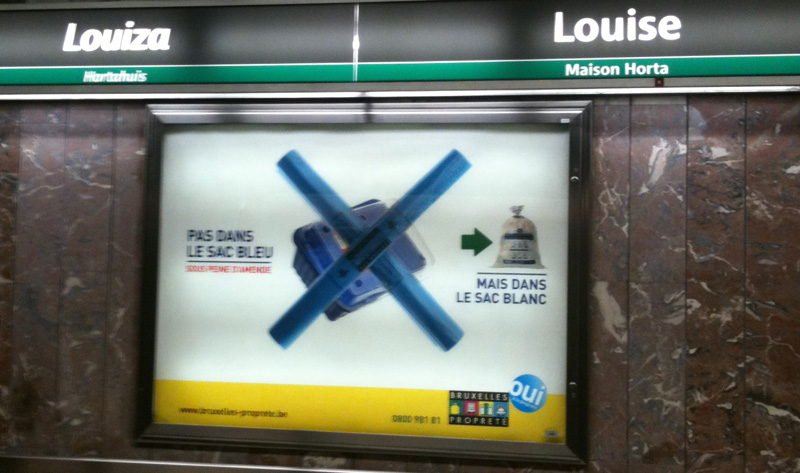 Exactly what waste can be easily recycled in municipal recycling schemes? It's a question that perplexes even the most committed recyclers.
Plastics are usually the most complicated, as only certain types of plastic (normally plastic drinks bottles) can be recycled, and other types of plastic cannot be put in the recycling bags.
But at the margin, how should the local council responsible for recycling react?
Not, I would argue, in the way Brussels is currently behaving. Billboards like the one above fill the Brussels Metro, warning that putting yogurt pots or plastic mushroom boxes in the blue bag recycling scheme is not only incorrect, but can incur a fine if these objects are placed in the wrong bag. The clear message: if in doubt, don't recycle. Plastic drinks cups or tomato boxes – are they acceptable? Probably not (according to the Bruxelles Propreté site) but better not even try it as a fine might be levied.
Further, if I do want to make the effort to recycle such things (and might even go to a local recycling centre), how can I do that? No information whatsoever is provided.
In short, this is one of the oddest and most counterproductive bits of government PR I've seen in recent times. The idea of the Brussels blue bag scheme, and other similar systems in other European cities is to make recycling as easy as possible – put the waste in the bag and the recycling centre sorts it out. As simple as possible for the citizen. The Brussels ads seem to have precisely the opposite effect, making citizens nervous and less inclined to recycle.