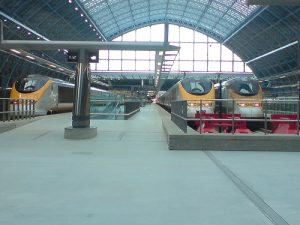 I've just arrived home, having taken Eurostar 9133, the 1256 departure from Brussels Midi to London St Pancras. The security paranoia on the route is now so absurd it's worth a blog entry.
The first check at Gare du Midi is a ticket check, where the QR code on a print-at-home ticket is checked and an automatic barrier opens. This verifies the validity of your ticket to travel. If your ticket can't be used in the barrier it can be manually checked by a member of staff. In short, you can't get into the terminal without a valid ticket.
Second, your passport is checked by a Belgian passport official, confirming you are leaving Schengen. Third, your passport is checked by a UK Borders official, confirming your are allowed to enter the UK, and your ticket receives a stamp. More about this later. (If you are travelling only as far as Lille you do not have to prove your identity, because Belgium and France are in Schengen – the so called Lille-loophole).
Next the metal detector at security is set at such an absurdly high level in Brussels that they oblige you to take off belts and watches. What am I conceivably going to do with a belt on a Eurostar train? Wrap it around the driver's head and force him to take us all to Paris instead of London? OK, check my luggage and make sure I don't have a bomb in it, but no more – that's what they basically do in London as far as I can tell, so why so strict in Brussels?
Then today when the train called at Lille for more passengers to alight and board, we were told on the public address system in the train that there would be additional checks in the train between Lille and Calais. These checks were carried out by a team of 7 French rail police carrying guns and batons, but just checking tickets (and not passports). I asked the policeman who checked my ticket why he was doing so. "Parce-que c'est comme ça" (because that's the way it is) he replied. I pushed him further, saying that of course I had to have a valid ticket, because how otherwise could I have actually got on the train? "C'est contre la fraude" (it's against fraud) was the best I got out of him before he moved off.
Now if this really is against ticket fraud, then why these armed police, and not Eurostar staff? And if this is actually a border check rather than a fraud check, why are they checking tickets rather than passports? Or are they actually checking the stamps on the tickets from Brussels (see above), and are hence working with UK Borders in some way? Or is it all just bravado?
It is also most definitely inconvenience – not for the checks themselves, but because the train additionally had to call at Calais (not in the timetable) to let the police off, and due to the stop the train had missed its slot to pass through the channel tunnel, meaning a delay of 15 minutes. The train manager, when announcing the delay, did not say why the delay had happened.
Then upon arrival in St Pancras, not announced to passengers on the train, all passports and all tickets were being checked by UK Borders at the exit. Which – quite frankly – seems to render other checks superfluous. Why bother having a UK Border check in Brussels, and French police check in the train, if you're then going to check in London too? Plus, due to the small terminal exit and a few hundred people streaming off a train, the checks are not swift in London – I was only through quickly as I always travel in the front carriages of a London-bound Eurostar.
Now I don't know what the right answer to this is – in security terms. A passport check for all passengers in Brussels (including Lille-bound passengers) would probably be the simplest, but is not legally viable it seems. Passport checks (with auto passport gates?) at St Pancras would be the most secure if the risk is judged to be adequately high.
But two things are clear from today's experience: the way the checks are currently done does not work at all efficiently, and the communication about why the checks are happening is deeply inadequate.