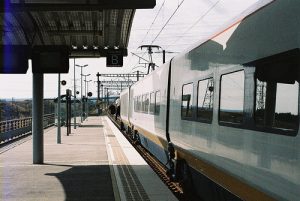 All was going so well. Eurostar 9156 departed on time from St Pancras at 1904, and arrived at around 2057 (local time, as scheduled) at Calais Frethun.
Then nothing. No departure. Silence.
Then the announcement that "for service reasons" we were to wait 10 minutes at Calais. At 2108 a Eurostar arrived into Calais from Lille, presumably the slightly late running train 9161 (the 1952 departure from Brussels – full Eurostar timetable here). A few minutes later our train departed towards Brussels with a delay of about 12 minutes.
After yesterday's experience my attention was piqued. So I found the train manager and asked him. Why, I asked, was our train delayed? What does "for service reasons" mean? "It was because of staff" he said. Do you mean, I pushed him, that we were waiting for the rail police to get out of the arriving Eurostar and to get into our train so as they can return to Lille? Yes he said.
So once again a delay thanks to the security issue, although – presumably because they trust their colleagues in London – there was no passport or ticket check of passengers in the train between Calais and Lille.
Bring it on: delay without even the faint notion that it's in the passengers' interests!