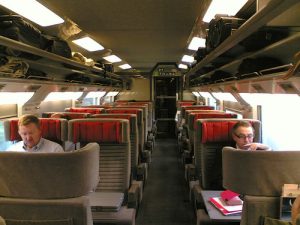 Back in 2002 I was doing a poorly paid internship at Institut für Europäische Politik in Berlin and my then boss (who subsequently has become a good friend) Bernd Hüttemann said to me on my very first day "Jon, there's no point you making travel bookings for me, it's just quicker if I do it myself, as I know what I want and it takes longer to explain that than to actually book it."
Too true.
Now 8 years on I am stuck with the opposite predicament when trying to get hold of a Eurostar ticket between London and Brussels to speak at an event at an EU institution in December.
These are some of the things that run through my head as a Eurostar frequent traveller…
When do I book? I want to get the best ticket prices but need to know my travel plans for sure before I do book.
I want a print at home ticket rather than messing about queueing at the station.
What time is the train leaving London, and can I get there on public transport without the need for night buses? Or can I cycle to St Pancras if it's just a day trip?
What are the relative costs of standard class versus standard premier, and is it worth £10 or £15 extra for a larger seat and some food? If it's the latter then I am going to need to ask for veggie food.
Whichever way what coach do I want to sit in? I want to be near the exit in Brussels and when returning to London, i.e. towards the front in both cases. But do I need a power socket for my laptop if I'm in standard class? If so then a UK or a continental plug?
Do I want a forward facing seat? Or do I want a better chance of having no passenger beside be if I have a backwards facing seat? And in all cases I want a window seat rather than an aisle.
Am I going to be able to claim the points for my journey on my frequent traveller card?
So for the aforementioned trip in December, better I book it, right? All they would need to tell me would be the maximum budget and the times I need to speak, and I'll handle the rest.
Oh no, hell no. I am told that under no circumstances can I book the ticket myself as a reimbursement cannot be paid if I do that. It must be handled by the secretary of the person I am working with, and she must go through American Express Belgium travel agents, and I have to inform her of the trains I want to take. Then somehow or other a ticket will find its way to me. While we're arsing around with this the train tickets have gone up in price, I've already spent a lot more time on this than I would have done if I had just gone ahead and booked the tickets, and a load of time of the person in Brussels has been wasted as well. When I finally get the tickets I'm probably going to end up at the wrong end of the train in an aisle seat as well (even though I've explicitly asked for particular seats and coaches).
So what does all of this say, apart from the fact that I am an absolute Eurostar-nerd? It also seems to demonstrate that I am my own best travel agent – no-one else is going to be able to book tickets for me as swiftly and efficiently as I can do for myself. Lastly – and most prfoundly – this all demonstrates the legendary structures and inefficiencies of the EU institutions, with systems geared up for accountability but that actually miss the point – by using more hours of staff time and costing more than a simple reimbursement based system. Replicate that the thousands of time people attending EU meetings need travel costs covered and the EU will be racking up quite a bill…