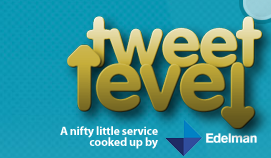 Edelman have cooked up a little tool called TweetLevel that gives a number that judges an individual's influence on Twitter. 0 is the minimum score and 100 the maximum. Left Foot Forward has had a go at working out which Labour people have most influence on Twitter in the UK, so I thought I would have a quick go for EU matters.
Essentially TweetLevel uses 4 factors to determine its score:
Influence – what you say is interesting and many people listen to it. This is the primary ranking metric.
Popularity – how many people follow you
Engagement – you actively participate within your community
Trust – people believe what you say
There's more about the methodology here.
So who does best on EU matters on Twitter? The highest score I managed to find was 58 for @kattebel, who scores very highly (71.1) for engagement. Other individuals of note are @linotherhino (52), @dicknieuwenhuis (51) and @eurosocialiste (50). I (@jonworth) score 48, level with @JulienFrisch, @Nosemonkey is on 45, level with @kosmopolit, @MacarenaRG scores 44, @spiller2 scores 41.
Among the institutional Twitterers @JeanineHennis (60) leads @judithineuropa (52), @Sophieintveld (51), @MarietjeD66 (48), @MatthiasGroote (42) and @AlexAlvaro (31) and @JerzyBuzek (29). The latter two score very low for engagement. Amusingly @ecrgroup scores a lousy 16, and an engagement score of 0.3 – due to their generally dire approach to Twitter.
(please add a comment if you think you should be added to the lists!)
[UPDATE] A few more to add – @neurope – 47, @quarsan – 47, @eurocentrique – 39, @eulondonrep – 43, @rose22joh – 30, @bloggingportal – 41, @mteu – 43, @passie_kracht – 43, @erikwesselius – 40, @euroced – 36, @letzi83 – 43, @quatremer – 52, @LB2S – 49, @belitabrux – 32, @dominikfrelih – 34, @steffenmoller – 25, @afourms – 36, @bmbrussels – 22, @placelux – 30, @eurotwittering – 26, @efpia – 24, @europabio – 37, @ewea – 28, @cropprotection – 25, @europeanpaper – 13, @engineerComms – 25, @bueti – 49, @grahamwatsonmep – 23, @EU_Consumer – 31, @emireland – 42, @GellisCom – 24, @J_Zim – 53, @PStrempel – 23, @TonyRobinson – 32, @europeecologie – 48, @pes_activist – 29, @Berlaymont – 52, @UmarAhmed – 38. (Note: if an account is protected it cannot be analysed)