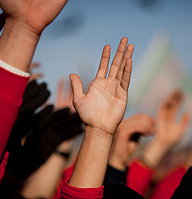 In as far as I can work it out, the problem – in essence – with Netroots UK is that it's too much about politics on the web, and not enough about the politics and consequences of the web.
What do I mean?
Essentially the speakers (even those on the 'State of the left blogosphere 2011' I'm currently attending) have not asked themselves essential questions about how the net is changing our politics, our organisations, our societies. The discussion is stuck one stage back – it's how to use the web to intervene in problems (be they political or organisational) of the past, without having understood that the nature of our politics and organisations is undergoing a fundamental shift.
I have not heard any thinking so far along the lines of Shirky or Tapscott/Williams. A more thoughtful – dare I say it intellectual – strand to Netroots could help matters a lot.