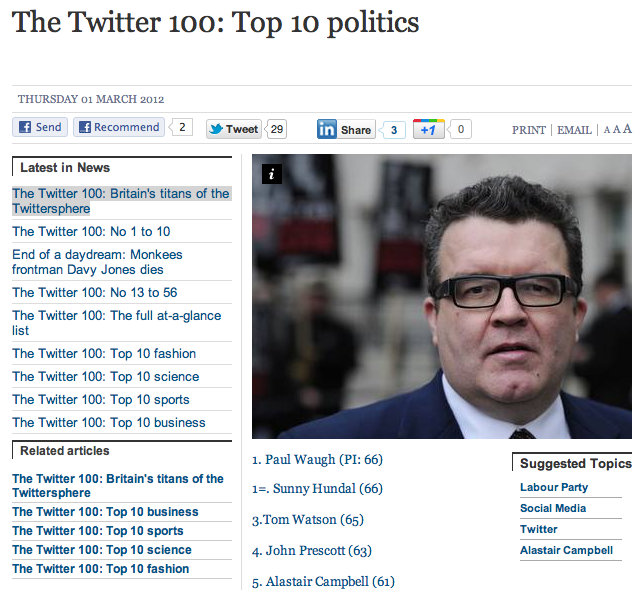 The Independent has been creating a bit of a stir today with its "The Twitter 100: Britain's titans of the Twittersphere". Sunny Hundal was particularly happy that he ended up joint top of the Politics Top 10.
The problem is that the methodology of this list is highly questionable.
Indy journalists seem to have scoured the Twittersphere, made a subjective list of people based in the UK they came across, and then run those individuals through PeerIndex, the social media ranking tool.
First, there is the issue of who to even include. Two notable absentees are Mark Ferguson of LabourList (PeerIndex: 52), and Will Straw (PeerIndex: 57) whose scores would see them comfortably into the Top 10 for politics. My own PeerIndex score is 55 – that would place me 8th, but the notion that makes me influential in UK politics – on Twitter or in general – is laughable.
This is due to an inherent deficiency with PeerIndex. It essentially measures the density of connections people generate in social media, Twitter in particular. It has no way to measure the influence of those people offline, and – hence by extension – the influence offline of the people they influence on Twitter. It also cannot incorporate into the measure where the influenced are located.
A similar study was also drawn to my attention this week – Economia tried to do the same for influencers in finance. Sony Kapoor was not on the list due to a low PeerIndex score, despite his tweets consisting mostly of expert exchange of views with top journalists of important newspapers such as the FT.
In short: take all of this with a very large pinch of salt!