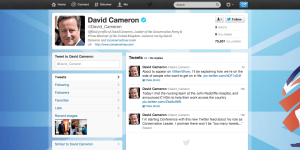 This is not a post about the politics of David Cameron. It is instead an analysis of what the Tories did wrong – in communications and web tech terms – with the launch of the @David_Cameron Twitter account that finally saw the light of day yesterday.
Let's not forget – the launch of this account has been trailed for more than a week. That, you would have thought, would have given them some time to get things right. After all it's not that often that a major person, famous in their own right, joins Twitter. Whoever is advising Cameron could, you would have thought, have learnt a few lessons.
1. Design
The background is too wide and cannot be seen in full, even on a decent size laptop screen (MacBook Pro screenshot here). They also have not used a cover photo, a feature available on Twitter since 18th September. Lastly, the pic of Cameron they have used is poorly cropped and does not look professional.
2. Who's behind it?
The biography is very unclear – "Account run by David Cameron and @conservatives team". So are there going to be any tweets from Cameron himself? We just do not know. They could have followed the example of Obama (his tweets signed -bo) or Cecilia Malmström (signed /CM) to indicate when the PM himself was involved.
3. Following
The first four accounts to be followed were Boris, Jeremy Hunt, William Hague and Conservatives (a point that did not escape Alastair Campbell), and at the time of writing the account follows just 8 others – all Tories. This is despite Cameron having been welcomed to Twitter by the Prime Minister of Lebanon – no reciprocity for someone of his rank elsewhere in the world. What – if any – is the strategy for who to follow and engage with? In comparison, Herman van Rompuy looks like a paragon of virtue on Twitter.
4. Web
The three tweets so far have been sent from 'Web' – i.e. twitter.com (see screenshot here – from Tweetbot as Twitter doesn't show this any more). This would seem to indicate that the people running the account are neither using a mobile app to simplify their Twitter use, nor are they using a desktop app in order to do some analytics on the effectiveness of the account.
On a more positive note, at least the first tweet showed a sense of humour.