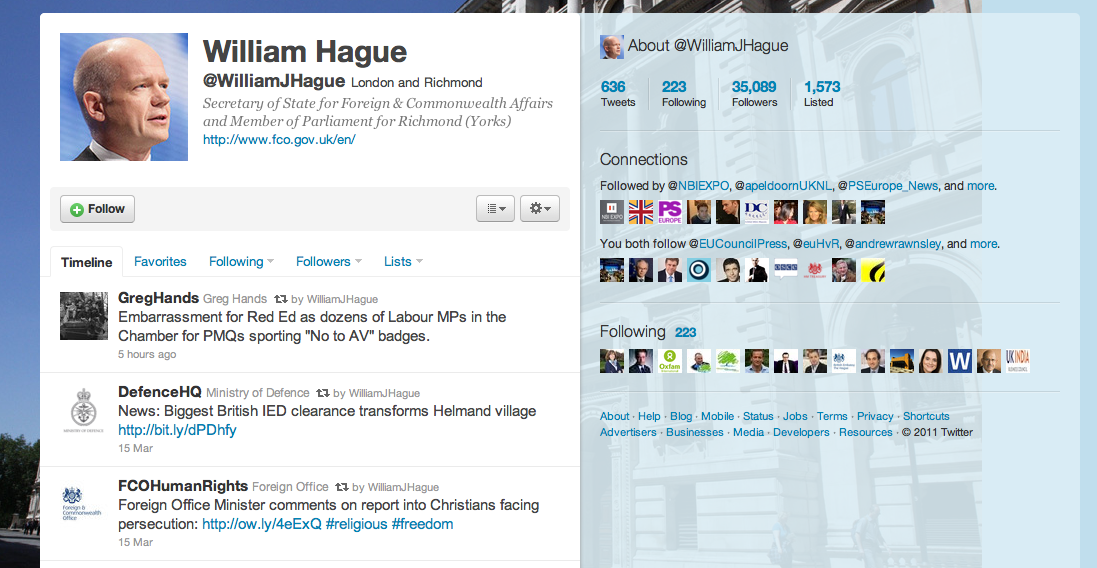 The screenshot above was taken at 1719 today, showing William Hague's Twitter account, @WilliamJHague. It's worth noting the three tweets present at the top, shown in more detail here: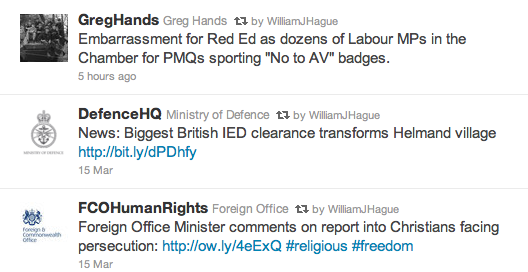 The first tweet is explicitly party political, while the second and third are retweets of governmental business.
The Hague account states first and foremost that he is Foreign Secretary, the background image is the main FCO building on King Charles Street, and most of the content is for explicitly FCO purposes. The Q&A sessions about foreign policy that are done using the account are mentioned – officially – on the FCO website. See this report from 10th February for example.
So is this account governmental, or party political? Today's screenshot proves that it is both.
There is no doubt that Hague's influence on Twitter – his number of followers – is in part due to the Q&A sessions, and as these are linked from the FCO site this means FCO staff time has been involved in running and publicising them. FCO staff resources have been used. Hague then uses this extended reach to make party political points…
This is clearly in contravention of point 6.1 and point 6.3 of the Ministerial Code (PDF here, p.12):
6.1 Facilities provided to Ministers at Government expense to enable them to carry out their official duties should not be used for Party or constituency work

6.3 Official facilities and resources [my emphasis] may not be used for the dissemination of material which is essentially party political
So what is the solution? Either Hague must make his account explicitly governmental (no party political points) or he must cease to use any FCO resources to assist with any of his work on Twitter, and all links and references to the account should be removed from the FCO website.