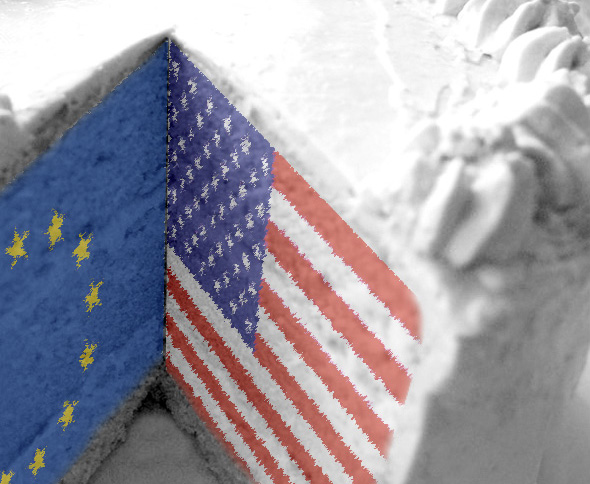 How are you supposed to measure the state of US-EU relations? No easy task seen from Brussels.
Earlier this week Barack Obama prompted a bout of soul-searching by stating that he would not attend a EU-US summit pencilled in for May this year. At least it resolves who will first shake his hand or sit next to him – no-one.

Then today comes the news that Hillary Clinton called Jerzy Buzek, President of the European Parliament, regarding SWIFT. Buzek even tweeted that he had spoken to Clinton, but the tweet has subsequently been deleted – screenshot of my retweet of it here. The Committee on Civil Liberties, Justice and Home Affairs nevertheless voted against an agreement today.
So what's the reaction? How dare the USA try to influence the EU's legislative process by applying pressure on the European Parliament! Normally accurate, blogger Julien Frisch is completely wrong on this one. What is to stop Hillary Clinton (or anyone else) trying to influence the European Parliament – providing we know about it?
Conversely the President of the European Commission and the High Rep for Foreign Policy of the EU should be doing the same towards Washington – proactively promoting the EU's interests. That's what having a stronger role in the world is about – and how often do we hear that advocated by the EU's high level politicians? Plus if the EU had been a bit more forceful towards the USA from the start we would not have found ourselves in the messy predicament concerning SWIFT anyway where it looks like a one way street towards giving the USA data.
So on balance US-EU governmental relations don't look too bad this week. Obama has rejected attendance at a bla-bla talking shop, and Clinton has realised that the European Parliament (and the legislation it passes) actually counts.
[UPDATE 5.2.10]
Daniel Bastiero, the Spanish journalist who managed to get the tweet out of Buzek has more on his blog about the story (Spanish original, Google translation here)