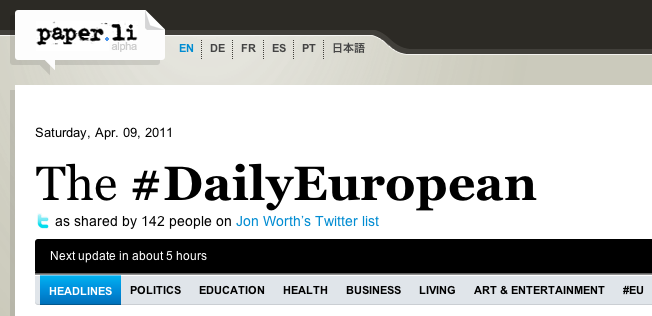 Twitter is a great place for sharing links. But there's no way to really systematise what's particularly interesting… It's see it this moment or it's gone.
So I'm trying once again with paper.li to do something about this. My new experiment is called The #DailyEuropean (giving the newspaper a hash-tag on Twitter too). The newspaper is made from a new Twitter list – Daily European. The idea is that anyone who tweets links to English stories about the EU anywhere on the web should be added to that list. This includes accounts that broadcast only.
I'm going to tweak the list to see how it works (today's paper has too much from Roger Helmer for my liking!) but if this works out then it should be a crowdsourced paper about the best of EU politics.