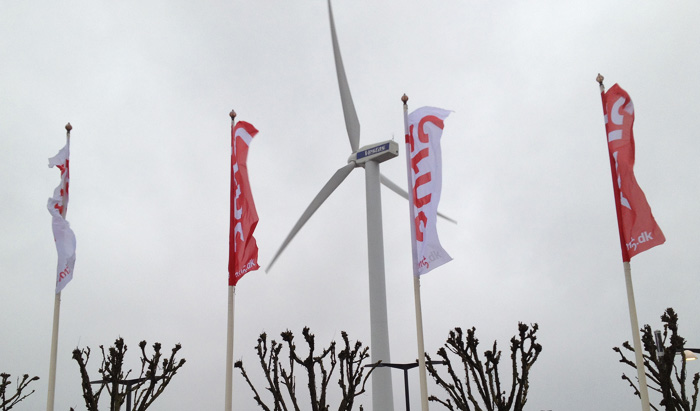 At one level it has been a privilege to attend the Danish Presidency Press Trip for the past four days. I'm the first blogger ever to have been allowed to attend, and hopefully not the last. But the whole experience leaves me feeling a little empty, although not quite for the reasons that may be immediately obvious.
Let's start with what works well. The trip – from my point of view – was impeccably organised. Wifi in all venues, buses to get us everywhere, staff on hand to answer any questions we had. I'm waiting for the Foreign Ministry people to confirm the budget for the trip to me, but it will not be excessive for the journalists trip alone – beyond flight and hotel costs there were not too many other direct expenses. There was some pleasant food, but beyond that most of the events were either provided free, or the press people attended things that were happening anyway. As Jakob Alvi from the Danish Permanent Representation pointed out to me, this is only one of dozens of press visits that the Danish government supports during the Presidency and, for trade or tourism purposes, at other times too.
This then is a critique of a system, not a critique of the specific event I attended.
A key problem lies with the cosy yet dysfunctional relationship between the press, and the administration and politicians. Over the course of the four days we received on the record briefings from 9 ministers in the Danish administration: Margrethe Vestager, Villy Søvndal, Bjarne Corydon, Morten Bødskov, Morten Østergaard, Ole Sohn, Mette Gjerskov, Martin Lidegaard and Nicolai Wammen, and had off-the-record discussions with a few more at a dinner. In addition we heard speeches from Helle Thorning-Schmidt, Donald Tusk, Jerzy Buzek and José Manuel Barroso, and attended a press conference with Thorning and Barroso. We also heard from more than a dozen leaders of businesses of various sorts, with Claus Meyer (founder of Noma) the only one to truly stand out.
That sort of access is unprecedented. However it also seems to be rather useless.
The on the record briefings from ministers were remarkable mostly for their complete absence of content. 8 of the 9 ministers (Agriculture Minister Mette Bjerskov being the only exception) gave little more than simple summaries of the Presidency priorities. The Q&A sessions with the ministers were little better. Søvndal at least showed a little more passion and determination for some issues than others, and was willing to say so when he didn't know the answers, and Wammen coined the phrase that this was the tap water (i.e. discount) Presidency. But sat writing this blog entry now I cannot recall a single thing Corydon, Bødskov, Østergaard, Sohn or Lidegaard said.
Oddly I don't actually know who is wasting whose time here. We used up more than 10 hours of ministerial time – could these people have been doing something more useful? Yet conversely 60+ journalists sat and listened to hours of this. Could they have been doing something more worthwhile?
"Why do you bother listening to all of this?" I asked a veteran of a number of these press trips. "In Brussels we wouldn't," he said, "but here we're the guests of the country holding the Presidency." Why then, I asked, bother to come at all? "To make contacts," he said, going on to say that these were made in the margins. But surely there is a more efficient way to achieve the same result?
There is also undoubtedly some educational aspect to the event. One correspondent I spoke to had only been in Copenhagen once before – for the UN Climate Negotiations – and was happy to use this trip to heal the scars from his previous visit. Many others had little knowledge of Danish politics and society beyond Forbrydelsen, one even raising the idea of making a 'Danish politics 101' presentation at the start of the trip. My knowledge of Denmark and Danish politics, and an excellent Twitter network giving me the gossip on the politicians we were meeting, meant I knew more than the average. But I am a politics nerd I suppose.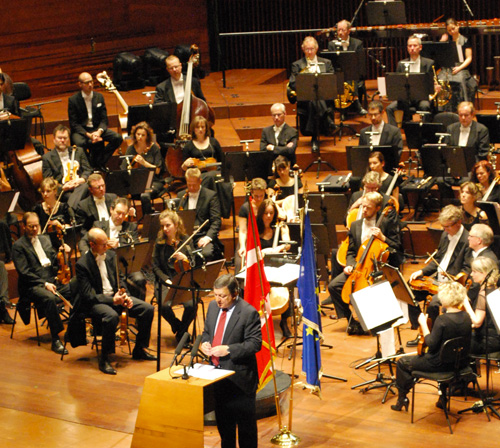 The press trip was timed to coincide with the joint meeting of the College of Commissioners and the Danish Government, and the opening ceremony of the Presidency. This was a gala concert at the DR Koncerthuset. The event was a mix of short speeches and classical music played by the DR orchestra, yet the audience was confined to the high and mighty of the Copenhagen political elite. The hall seats 1800 but it was only about a quarter were full. I'm not sure a classical music concert is something for mass public consumption, but here was an opportunity to show a slightly wider audience a little more of the spirit of the Presidency, and this was missed. Here Wammen's notion of a discount Presidency was not much on show, with expensive canapés and ice sculptures.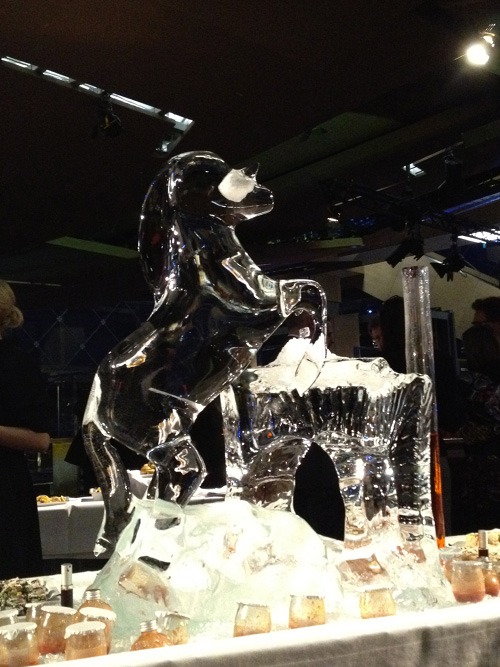 Over glasses of wine after the opening one of the most interesting scenes of the trip was played out. Olli Rehn, dour and grey Commissioner for Economic and Monetary Affairs, was surrounded by a crowd of journalists. How? Why? It cannot be because he has anything interesting to say, can it? I expressed my surprise to one of the journalists afterwards. Rehn didn't say anything new or interesting was the reply, but he's a nice guy. We (meaning the Brussels correspondents) talk about football and go for dinner with him, I was told. I countered that his communications were disastrous and towards the outside world he looks ineffective. This was met with a shrug and a further defence of Rehn as an individual. Are these journalists too close to Rehn to be objective? Or am I – as an outsider – just too cruel? Conversely, I am told that many Brussels correspondents are not altogether enamoured by the High Representative for the EU's Foreign Policy, and on that one I am with them.
The icing on the cake was today's Press Conference with PM Thorning and Commission President Barroso. It took place at Bella Center, a 1970s conference centre on the windswept edge of Amager. Throne like chairs – occupied by less than 100 press – sloped up the cavernous room from the impeccable stage with a flower arrangement that must have cost more than I'm paid in a day. The two politicians arrived late and gave us 30 minutes of their time – initial introductions that more or less word for word what they had said the night before followed by just half a dozen questions.
As the howling wind made the Vestas wind turbine spin at speed outside Bella Center, the Presidency flags billowing in the wind below it, it was with a grim face that Thorning discussed today's announcement that the very same Danish wind turbine company is laying off 2300 workers. No words from the politicians could counteract this very concrete bad news.
The best question at the press conference came from the FT's Peter Spiegel. Directing his question to Barroso, he neatly connected the Commission President's campaigns against authoritarianism in Portugal as a young politician with the ongoing constitutional problems in Hungary. Did Barroso, Spiegel asked, think that Viktor Orban as a politician represented European values? Barroso's answer was a classic, vague fudge. He didn't mention his own view of Orban at all and instead kept referring to legal process needing to take its course. His words ended up being weaker and more vague than the Commission's statement on the matter from the day before.
"What did we learn from all that?" I asked one of the journalists at the end. "It's always like that" he said. So we all pottered off to the cavernous press room to file pieces about what we had just heard, crouching over our laptops and trying to muster up something worthy to say, with every practical need covered except anything noteworthy to actually write about.
So that folks, is a Presidency Press Trip.
UPDATE 16 Jan – @SpiegelPeter has just tweeted:
[blackbirdpie url="https://twitter.com/#!/SpiegelPeter/status/158802093883396096″]
Which more or less proves my point I think…