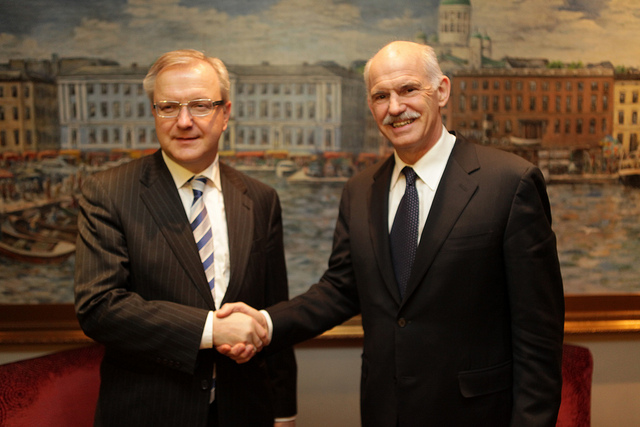 In a regular government, when a Minister is struggling he or she is removed by the Prime Minister. I don't think anyone has any doubt that the European Union is struggling to get to grips with the Eurozone / debt crisis. So who's the fall guy?
Well, so far, there hasn't been one, at least not at EU level. It's high time that changed.
The European Commission, the EU's executive, has a Commissioner for Economic and Financial Affairs – Olli Rehn. Yes, Olli who, you might be asking. While Member States bicker over the future of the Euro, the EU needs a clear line from the Commission, and Rehn – a tremendously cautious politician with non-existent communications skills – has failed to step up.
Unlike a national government it's not legally possible for Commission President Barroso to sack a Commissioner, but he can reshuffle them, so Rehn could be dispatched to somewhere where nothing is expected of him. Until the ratification of the Treaty of Lisbon, the Commission President could not sack any of his Commissioners – since Lisbon (see Article 16 TEU – pdf here) the Commission President has this power, but so far it has never been used. Hence a reshuffle of the Commission is the more likely solution.
My favoured replacement in Rehn's portfolio would be Neelie Kroes – tough, experienced, ready to take hard decisions. Barnier, Kallas or De Gucht would be alternatives. There's a quick poll – let me know what you think!

Loading ...
[Note: entry has been amended at 2146 on 20.9.2011 in light of comments below]