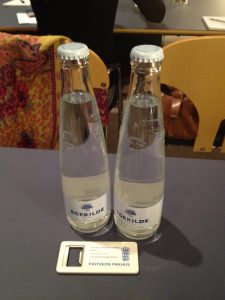 The only point of genuine contention in the first session of the Danish Presidency press trip with Europe Minister Nicolai Wammen was a debate about the cost of running a Presidency. What – a Polish journalist asked – is the Danish Presidency not doing, when it costs €35 million while the Polish Presidency cost €115 million?
Wammen's answer was interesting, but missed the point. We won't have, he said, as much merchandise as previous presidencies (and – apart from ties for participants – he seems true to his word), and bottled water will not be available in meetings. The latter drew laughter as there was water in bottles on all delegates' tables. The last time, one hopes. There is also a commitment, he said, to making sure public transport is used wherever possible and to make this Presidency the greenest ever.
However none of that comes close to accounting for €80 million. The reason – as far as I can tell – is that all the wider PR work of a Presidency – the signs at airports, the educational activities in schools, the effort to show the population the value of a Presidency has been cut this time. I'm torn as to whether this is a good thing. Denmark suffers the same problems of lack of knowledge and engagement in EU matters as other countries, and a Presidency is an opportunity once every twelve and a half years to do something about it. Conversely some of the cash used is often crass and useless expense, so perhaps the cuts are important.
Anyway, I am glad we opened up with a discussion of whether the Danish Presidency is worthy of its Brussels nickname: the Discount Presidency of the EU.