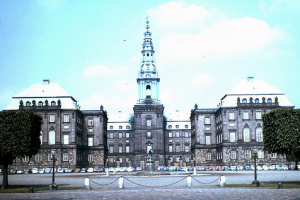 The first briefing today is from the EU Affairs Committee of the Danish Parliament. This committee has the reputation as being the toughest of the 27 national parliaments when it comes to holding national ministers to account before they head to Brussels to Council meetings, and often meet at the same time as the Ministers are meeting in Brussels. At any time Danish ministers negotiating in Brussels know they will need the approval of the EU affairs committee.
The real question for me is: why do these parliamentarians actually bother? Why spend time on this? Because if you're an ambitious member of the House of Commons then why would you aim to be on the European Scrutiny Committee? It's technical, complicated, and it's hard to present to any voter what you have actually done as a member of that committee. No MP (except perhaps for raving EU-phobes like Bill Cash) can ever make a career of it.
Why, I wonder, is Denmark different? A small country? List-based election systems? Less everyday, direct contact between MPs and constituents? A more consensual, responsible political culture?