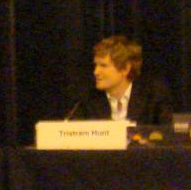 There's a piece on the website of the Leyton & Wanstead Guardian that Labour is rumoured to want historian Tristram Hunt as its candidate to follow Harry Cohen who's standing down. The line is that Hunt would be worse than Dromey if someone were to be 'imposed' on Leyton and Wanstead and I agree. More of my thoughts on the selection here.
But any candidate needs a website, right? So I thought I would have a look around to see what domain name variants of Hunt's name had been registered, and here is is – the WHOIS for tristramhunt.com (holding page only at present):
Registrant:

TRISTRAM HUNT
XXX XXXXXXX
XXXXXXXXXX
GB
Phone: XXX
Email: TRISTRAMHUNT@BTOPENWORLD.COM

Registrar Name….: Register.com
Registrar Whois…: whois.register.com
Registrar Homepage: www.register.com

Domain Name: tristramhunt.com
Created on…………..: 2010-02-08
Expires on…………..: 2011-02-08
First of all it's notable that the domain name was only registered 2 days ago, on 8th February. Second, isn't it nice that he allows us to see his mobile number and personal e-mail address? Ever thought about WHOIS Privacy Tristram? (you can see the whole WHOIS here)

Anyway, it seems to confirm he's up to something.
[UPDATE]
In light of comments I've probably been too tough to replicate Hunt's data here, but all this remains in the publicly available WHOIS for the domain.