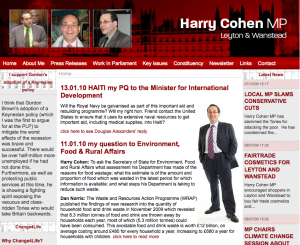 A UK general election is on the horizon and my name is on the electoral register in the Leyton & Wanstead constituency in East London. As I'm a Labour Party member resident there for more than 2 years it means I have a vote in the selection procedure to see who will succeed Harry Cohen as the Labour candidate… Harry has always struck me as a pleasant and jovial (although perhaps ineffective) individual, but due to the expenses scandal it's clear he has to go.
So what is happening actually? According to Peter Kenyon Leyton & Wanstead will be an open selection, presumably taking place rather soon. I trust there will be something about it in the post for me when I'm next in London next week…
The only person I'm aware of who seems to be publicly angling for the nomination is Christine Shawcroft of the Grassroots Alliance who has somehow got hold of my e-mail address and keeps sending me information about her work in the NEC. She even send poorly page-set and nauseous calendars through the post. More about her and other lefty candidates at Luke Akehurst's blog.
Jack Dromey is rumoured to be a candidate, while Claude Moraes seems to appear wherever there's some possible Westminster action.
Now Christine and whoever else is going for the selection in Leyton & Wanstead: here's how you're going to get my vote. Be clear and straightforward with your communications, but don't spam me. If you've found this page via Google then you're welcome to drop me a line. Above all I want an intelligent, dynamic and forceful candidate for the constituency. I've not lived there all my life, so I don't care that much if the candidate has not either. Oh, and a candidate who doesn't have a basic grip of how to use the internet for politics is not going to get my vote – so if you don't have a website for your campaign then it's time to get one – I'm not going to be the only person looking for information that way. Morally bankrupt local councillors are not going to get my vote either.
So let the blood-letting begin…
P.S. I have no inside information whatsoever to inform the writing of this post. So don't do a Dizzy.