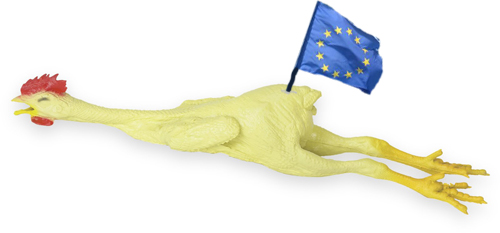 Selection processes are nearing completion to determine the party lists for the June 2009 European Parliament election in the UK. For Labour (more here) and the Conservatives, whose internal party procedures prioritise sitting MEPs, it's already possible to name more than half of the MEPs that are due to be elected before a vote has been cast and even before a single leaflet has been delivered to a voter.
Simply put, if a candidate manages to get themselves to the top of a list they are sure to be elected and needn't lift a finger between now and 2009 to ensure they can carry on for a further term. Labour and the Tories are never going to poll below 20%, so if you're top of a list, why worry?
This is all because the European Parliament election system used in the UK is wrong and is in need of reform.

The UK is divided up into 13 regions to elect its MEPs, each region returning between 3 and 12 MEPs. A voter puts a cross beside a party name on the ballot paper, and the MEPs are allocated on a proportional basis. Only – in contrast to many proportional election systems in use in different European countries – the lists are closed, i.e. voters cannot choose from among a party's candidates.
This system creates perverse incentives for sitting MEPs. Essentially there are 3 factors that should determine the performance of an MEP: legislative work in Brussels, ability to deal with citizens concerns about the EU (a representative role), and party political commitments. As the UK's MEP election system features closed lists, there's little incentive for MEPs to focus their energies on any factor other than keeping the party sweet. Schmooze with enough party members on the rubber chicken circuit and you'll be top of the list. The dearth of knowledge about the EP in the general population (and party members) in the UK means detailed questions about an MEP's individual performance are unlikely.
So what's the solution? A proportional election system must be maintained – as far as I'm aware the EP's internal rules even make it an obligation (it's actually a 2002 Council Decision – see the comment below for more). Plus no one wants a return to large one-member constituencies with first-past-the-post, and a result skewed heavily in favour of the largest party.
Hence the best bet is to open up the party lists. This could be done either along the Swedish model – where voters can choose among a party's candidates on the list, choosing people from further down the list if they prefer them – or the Irish Single Transferable Vote model, where voters can express preferences for candidates from different parties if they wish to.
At a stroke the incentives for MEPs would be changed. Sitting MEPs would have to defend their legislative and representational roles – the electorate could choose a different, new, energetic candidate instead of someone who's been in the EP for 15 years.
The parties would of course still decide which candidates to really prioritise in their campaigns, but being 8th out of 8 on a regional list would immediately become a more attractive proposition. Rather than the high hurdle currently in place – dislodging a sitting MEP in an internal party process – there would be the positive incentive for each candidate to present their own merits, and make their own case for selection.
It would for sure be uncomfortable for political parties, but it would improve voter choice and even make European Parliament election campaigns a bit more interesting.