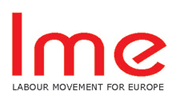 It doesn't come easily to me to ask so bluntly, but I need your vote – I'm standing for the Executive of the Labour Movement for Europe.
I've been writing about UK-EU relations on this blog for 6 years, have been working in EU affairs for 10 years, and have been a member of the Labour Party for 15 years. Now is the time to take on some organisational responsibility. The Labour Movement for Europe is vital so as to ensure Labour's EU policy develops in the right way (Douglas Alexander's op-ed yesterday would seem to show this is not the case – here is my response on LabourList).
You can find my nomination statement, and a little more about my experience here. There are 15 candidates running for 7 positions, and 2 of those positions have to be filled by people under 30 (I'm 31!) – essentially my chances are rather slim as a person running for the first time. If you are a member of LME I would be very grateful if you could vote for me. Postal ballots should be with LME members very soon. If you have any questions you're most welcome to pose them in the comments below, or contact me.