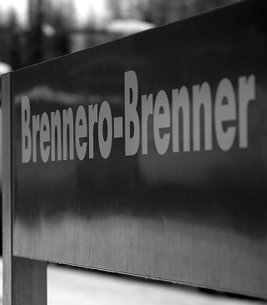 There's nothing that manages to get my annoyed quite the way that border guards do. Especially when they are fat, pompous Austrians with a gun in a holster at their hip that greet you with 'Grüß Gott' and control your passport a few minutes after your train has left Brenner at the border between Italy and Austria.
Why am I especially annoyed? Theoretically, Italy and Austria are in Schengen and border checks should not take place. So instead of a 'Grenzkontrolle' you get the normal police asking you for ID just after the border.
Under Austrian law there is no obligation to carry a passport but in Schengen you have to "seine Identität der Behörde durch geeignete Dokumente nachweisen können" – be able to prove your identity with an approved document, so it's essentially a border control Brenner, there's no way to resist.
Anyway the pompous fat git had a glint in his eye when he took a look at my passport; it's so old and worn that the coat of arms has worn off. 'We've got one here' he was thinking as he spoke my name and passport number loudly into his walkie-talkie to HQ without explaining to me what was going on.
When I then asked him – in German – what he was doing as Italy and Austria are in Schengen and hence there should not be a border control he quickly lost the smirk. "Das ist eine Schengenkontrolle! Wir sind nicht an der Grenze!"
So what, I asked him, is any different now than before Schengen? A control a few kilometres into Austria rather than on the border. Oh, and by the way I'm a EU politics teacher and I know my rights (not quite true, but it had the desired effect!) His mate on the other end of the walkie talkie had of course confirmed that I was legitimate, and he gave my passport back to me with a snort and left.
Wilkommen in Österreich!