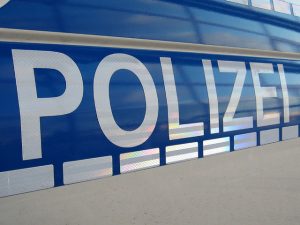 The 0744 København H to Berlin train (although I'm getting off at Hamburg Hbf). Friday 1st March. Two policemen wait at the German border station Puttgarden, board the train at 1040, it departs at 1042, and the two of them reach my seat (at the opposite end of the 4 car train) by about 1105, just before the train arrives in Oldenburg (Holst). This is the very same train and same spot as when I was checked in January.
Today however I tried my new Schengen tactic. Rather than showing anything initially, I asked the policeman a question: is this a border control or an identity control? Doing this in German helped, as he was not annoyed. Identity control he told me. So it is OK for me to just show you my driving license then? He looked confused for a moment, and then realised the connection with the first question. I pushed, gently, stating that as far as I was aware an EU photo driving license was adequate as an identity in Germany. But the UK is not in Schengen he stated, looking at my UK driving license. No it's not I confirmed, but that does not matter. It is still valid as identification in Germany.
But the problem, he correctly stated, is that while this driving license tells me that it is issued in the UK, it does not tell me that you are a British citizen. That is correct, I confirmed. So he reached for his telephone, and called HQ, giving them my surname and date of birth. This of course passed whatever check was done on the other end very swiftly.
But how do you speak such good German he asked me? I used to live in Berlin I replied, and by the way I work in EU politics, so that is why I am checking that Schengen is working. He smiled, thanked me, gave me my card back and wished me a pleasant journey.
So, what conclusions, if any, to draw from this?
A friend quipped to me in a text message that someone must have been reading my blog entries. I wish that were so, but I think that today I just ended up with an intelligent and polite police officer. The time it took for the police to go through the train indicates that more or less all passports must have been checked – this was a systematic check like they always are. As ever the question arises: how often, and on how many trains, are these checks taking place? But, as concerns the behaviour of the policeman towards me personally, it was done by the book and I can have no quibble with that.