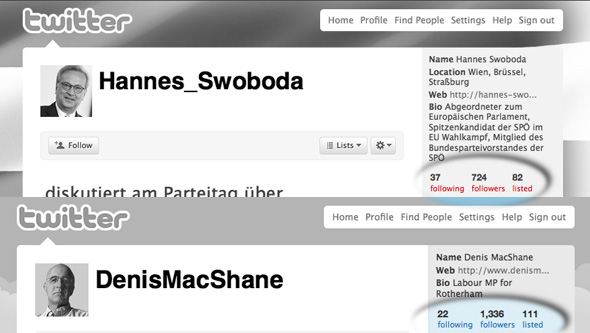 There are two ways to use Twitter as a politician.
The first (the right way) is to build a discussion, a conversation with people, to reply to normal Twitter users as well as other politicians and journalists. Politicians that understand this include @jeaninehennis @edballsmp and @corybooker.
The second way (the wrong way) is to just broadcast, broadcast, broadcast. Worst I have ever seen in this regard is Austrian socialist Hannes Swoboda @Hannes_Swoboda – not a single @ reply in the last 20 tweets, and not even a single link to anything! Following close behind is former UK Europe Minister Denis MacShane @DenisMacShane – he follows just 22 people and yet more than 1300 follow him, and again there's not a single @ reply. Wrong in a different way is @LiamByrneMP – he just auto posts links from his blog to Twitter. If I want to follow the blog, then surely I'll use a RSS reader?
I'm undecided whether these sorts of approaches are better than nothing or not. Is the impression of a conversation – the very fact of being on Twitter – outweighed by the fact that you can't actually build a proper dialogue with these people?
'But replying takes soooo much time!' will be the reply to this post. No, absolutely not, and that's precisely the point with Twitter. Get an iPhone, Android, Blackberry or other smartphone, and tweet in between meetings, in the limousine on the way to the airport etc.
Listening is actually the hard bit as a politician. Time and tech are just the excuses.