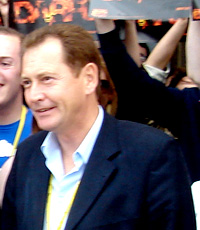 A post at Tom Harris MP's blog caught my eye this morning in which he cites comments by Graham Watson MEP that it's actually his wife writing his Twitter feed on his behalf, and that he has asked staff to hoover up Facebook friends for him.
Quite frankly I don't know what to make of Watson's frank admission! It has started a discussion on Twitter involving Nosemonkey, NEurope, EUlondonrep and MacarenaRG about what role politicians' staff should play in doing online work for them.
There are for sure politicians that are much worse with regard to use of their staff for online engagement – Martin Schulz, wannabe PES President of the EP, has 4575 friends on Facebook – I rather suspect he doesn't know too many of these people and I do wonder if he has ever logged on to Facebook himself. Maybe if someone working for him has Google Alerts setup they might reply in the comments? Anders Fogh Rasmussen has a better strategy, using a supporter page effectively rather than simply befriending people.
All of this leads me to the main issue: there are different ways for politicians to use social media, and ways for them to make it clear who is doing what.
I inherently want someone calling themselves 'Harriet Harman' on Facebook to actually be Harriet Harman; if I want to support Harriet Harman and do not know her I'll join a Facebook Group or a supporter page. That's the reason why there was no Harriet Harman profile on Facebook for the Deputy Leadership campaign*; she was not using Facebook herself at the time, so groups were the solution. The same applies to Twitter – if I follow grahamwatsonmep I hope that it's actually Watson himself behind it. If it's his campaign team then run watsonforpresident in Twitter (or something equivalent).
The same applies to blogging – Harriet wrote her own blog during the Labour Deputy Leadership campaign, sometimes with spelling errors, prompting accusations in the blog comments that she was employing someone that could not spell. Well the errors too were actually genuine. I don't think it's legitimate to expect a politician to read everything that every other blogger writes about them online (employees can compile summaries for example), but I think it's a perfectly decent expectation that if there is a blog in the name of the politician that they at least write the content for it. In Brussels I do think that Margot Wallström gets it and that her blog is genuine.
So for me the bottom line is this: Facebook profile, Twitter in the politician's name, and a personal blog should be done by the politician themselves. Groups, pages, Twitter for campaigns, analysis of web content elsewhere are the places that staff should be involved.
(* – there is now, but I have nothing to do with it)