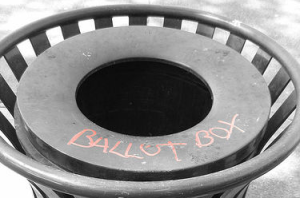 I am completely and totally sick of politicians who whine that the reason the EU will not work is because there is no European demos. Vaclav Klaus was at it again today in the EP, and Bruno Waterfield is practically jumping up and down with glee about the speech.
Well let me give the counter argument on this, something that is seldom put forward. I reckon people will vote for things if they understand its relevance to their lives; it's not about whether they feel part of a wider group, a people, a demos.
For this my father is the prime example. He was born and brought up in Leicestershire and Nottinghamshire but has lived for most of his adult life in Newport in South Wales. He speaks no Welsh, still backs England at rugby, and would never say that he is Welsh. He's not in any way, as far as Klaus or others would term it, part of the Welsh demos. But he's an intelligent man and realises that Newport City Council and the Welsh Assembly are important – they impact his life. So he votes. That should be a lesson to the European Parliament; my father will vote in the EP elections too, for the record.
Putting more control of the EU in the hands of national politicians is not the solution either. People should not be going to the polls in national elections according to the policies national parties take on EU questions. The equivalent in the UK would be voting for the Welsh Assembly on the basis of what the candidates thought should happen in Westminster, or voting for the Hessen Landtag according to what would then happen in the Bundesrat.
We essentially live in an era of multi-level governance, and it's not that complex for people to grasp that different problems need to be solved with different politican institutions at different levels.
Having said all of that, MEPs are at the core of the problem. It's impossible for MEPs to measure their impact, to state with any degree of honesty that X or Y will happen if the PES or the EPP is the largest party in the European Parliament after the elections. Until that happens there will always be a question mark over the legitimacy of the European Parliament. Having the European Political Parties put forward candidates for the President of the Commission (as I'm advocating with the Anyone But Barroso campaign) and essentially allowing the creation of a more socialist, liberal, conservative executive on the basis of the elections would be a start.
But all of that, I suspect, is rather unpalatable as it sounds a lot like federalism.