OK, it's not my sole ambition to be on TV! But I remember as a 16 year old thinking: some day I would like to be interviewed on television or radio speaking a language that's not my mother tongue. To appear in such an interview would mean I was doing something useful with my life, and also that I had maintained my languages to an adequate standard to be able to get my message across.
So I'm therefore rather happy to have appeared briefly on RTL Nachtjournal talking – in German – about the Atheist Bus Campaign. Not sure my grammar or accent was much good, but hey, I managed it. So many thanks to Herr Kelly and school exchanges to the Realschule Lahnstein all those years ago.
Atheist buses are 11 minutes into the film below.
[UPDATE] Deutschlandfunk as well! So I've managed both radio and tv… 🙂
[UPDATE 2] Also an interview online at cicero.de – and the telephone interview was in German.
[UPDATE 3] Also now in French on TF1 weekend news! Woo hoo!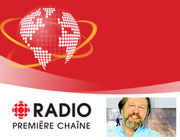 [UPDATE 4] The best interview so far – more than 10 minutes in French on Radio Canada Montréal on Samédi et rien d'autre with Jacques Bertrand. It's 11 minutes 40 seconds into part 3 here.